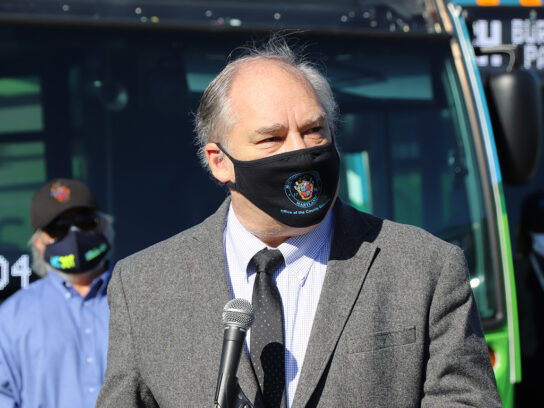 Montgomery County officials discussed balancing public health and economic interests Wednesday, as County Executive Marc Elrich proposes a return to indoor dining at 25% capacity.
Elrich sent an executive order to the county council Tuesday in order to make the change. Indoor alcohol sales must stop at 10 p.m. and customers would be limited to a one-hour stay. The council has to approve the order before it can take effect, and the county anticipates it will be passed during the next session on Tuesday so the order can be effective at 5 p.m. Feb. 9. For the most part, the council has approved Elrich's COVID-19 orders according to his timeline, however in November, members did postpone a vote until the next week.
"Everything we do, that opens something up, increases the risk of spread. You can't open things and not increase the risk of spread. We have been monitoring our numbers and we've seen a downward trend over the last 14 days," Elrich said during a virtual media briefing Wednesday. He noted that the county reported 147 new COVID-19 cases Wednesday and the rolling seven-day average test positivity was 5.22%. Elrich recalled when new case counts used to be around 500. According to the county's data dashboard, there were 10 days in January when the new case count was over 450; it was above 500 for seven of those days. The dashboard shows a downward trend in daily new cases beginning mid-late January.
Emergency Management Director Dr. Earl Stoddard said indoor dining is risky, but COVID-19 metrics have improved to a level where Elrich is proposing that the indoor dining ban may cause excessive damage to businesses. He said throughout the pandemic, leaders have been making harm-reduction decisions and are trying to balance harms posed to public health and harms posed by the economic impacts of public health measures.
"It is a dangerous activity. Now, the numbers have improved to the point where, because of the economic harm that we know restaurant closures is causing, that the county executive has decided and he's proposed it to the county council… that damage caused by the economic harm may be exceeding that of the harm from a public health perspective," Stoddard said.
"That does not, in any way, remove the risk and the harm caused to public health for doing it, but it certainly is a balancing of interests that has to be done at all levels and it's a risk tolerance and a risk aversion question as to when you exactly make these decisions."
During a council meeting Tuesday, Stoddard made clear that he will not dine indoors even if the executive order is approved.
"That does not change the fact that in my view, and I certainly believe Dr. Gayles and Dr. Crowel agree, that doesn't make indoor dining a safe activity," Stoddard said. "You will not see us participating in any of those activities."
Elrich said he understands businesses are struggling, and knows the assistance that the county was able to provide is not enough.
"We are lobbying the federal delegation as much as we can to have them bring meaningful relief to the business sector," he said. "They are truly the collateral damage in all this and it's one of the unfortunate things about making decisions that maximize public health, is those same decisions can be detrimental to the operation of businesses," he said. Elrich emphasized he prioritizes public health and that the county will continue to do so.