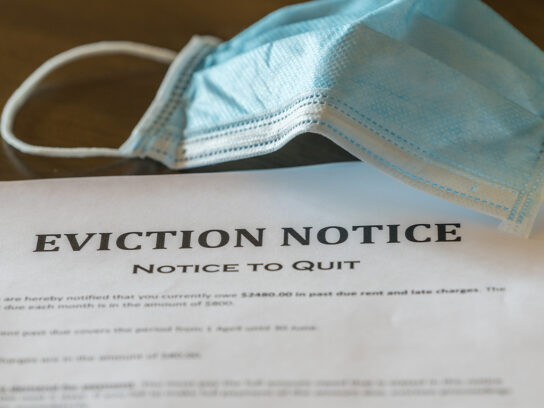 The Montgomery County Council approved $20 million in funding for rental assistance and eviction and homelessness prevention. 
The county Department of Health and Human Services (DHHS) will administer the funds, which will be used toward programs that help tenants at risk of homelessness or eviction due to COVID-19, according to council documents. The prevention programs will assist residents with past due rent and ongoing rent, as well as support for those transitioning out of homelessness. 
Council approves $20 million for #COVID19 relief for rental assistance and eviction and homelessness prevention. See more https://t.co/vrXNJtxSmX . pic.twitter.com/2ciIVRNihI

— Montgomery Council (@MoCoCouncilMD) July 28, 2020
County Executive Marc Elrich requested the special appropriation on July 17 and the council introduced it during a July 21 meeting. After a public hearing, it was approved Tuesday. 
"The council saved lives this year when it funded COVID[-19] testing at the shelters and at aggregated living sites," said Rose Morton, Chair and Veterans Representative for the Montgomery County Coalition for the Homeless Consumer Advisory Council (MCCH-CAC), who testified Tuesday. 
"County funding also helped to purchase tablets so that clients could virtually communicate with their case managers, demonstrating that the county is active in moving the homeless toward self-sustainable living, even during a global pandemic, and we cannot stop now with so many people living on the edge of homelessness," she said. 
The council wants Gov. Larry Hogan to take action too. Members introduced a resolution during Tuesday's meeting urging Hogan to extend his executive order that prohibits evictions of tenants who lost income due to COVID-19 to Jan. 31, 2021. 
"Please Governor Hogan, extend this… so that we're not worried about it every couple of weeks or month," said Councilmember Will Jawando.
"This is critical as we try to keep people safe, as we try to get the virus under control and as we maintain the health, wealth and safety of our residents."
Maryland Attorney General Brian Frosh is also pushing for an extension. On Friday, he sent a letter to chief judges at the state Court of Appeals and state District Court asking for eviction prohibition to be extended until Jan. 31, 2021. Hogan's current executive order on evictions prohibits them when tenants are losing income due to COVID-19. It is in effect until the state of emergency is over or until the order is terminated. 
Hundreds of thousands of Marylanders are in danger of losing their homes. We must stop that from happening. https://t.co/ZFhlEJ4cWg

— Brian Frosh (@BrianFrosh) July 28, 2020
At the federal level, Congress passed the Federal Coronavirus Aid, Relief and Economic Security (CARES) Act in March, which prohibited evictions for 120 days. The moratorium ended on July 25, and Maryland courts could resume hearing eviction cases that day. Hogan's executive order is not a total moratorium on evictions and requires tenants to prove that they lost substantial income due to the pandemic.