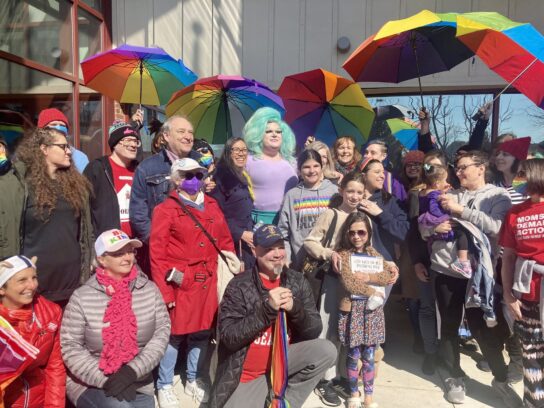 A Drag Story Hour held at Olney Library on Feb. 26 ran smoothly under the protection of the Parasol Patrol — a community volunteer organization that shields children at LGBTQ+ events.
The Parasol Patrol uses rainbow umbrellas to "create a visual barrier so kids won't have to see the signs and angry faces [of protestors]," per their website. They also played Disney music loudly so the families entering the library wouldn't see or hear any of the religious protestors, councilmember Kristin Mink said on her Twitter.
Several elected officials were also there to show support, including councilmembers Kristin Mink and Dawn Luedtke, County Executive Marc Elrich and State Senator Craig Zucker.
"We will not be intimidated. Montgomery County celebrates the LGBTQIA+ community, and displays of hate will only spur us to show up and do more to live that value out loud!" Mink said in a tweet after the event.
On Feb. 18, Proud Boys got violent at a drag story hour in Silver Spring. This time, there were over 100 Parasol Patrol volunteers, and the Proud Boys elected not to attend, per Mink's twitter thread recounting the day's events.
Councilmember Mink: Proud Boys Shoved, Kicked But Did Not Interrupt Drag Story Hour