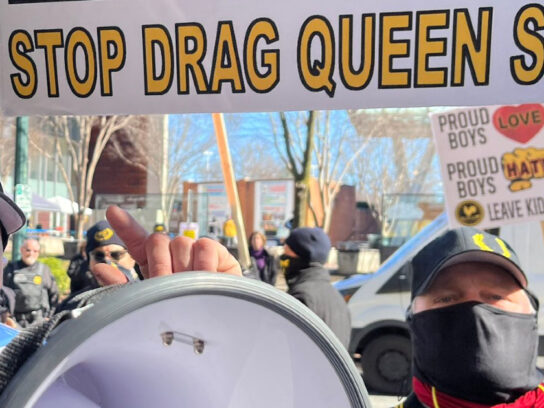 Members of the Proud Boys pushed people and stomped on the feet of Councilmember Kristin Mink and others as they tried unsuccessfully to break up Drag Story Hour at Loyalty Books in Silver Spring Feb. 18.
As they have been doing for many months, members of the LGBTQ+ community and their supporters formed a pathway so that participating children and their families could attend the story book hour without being harassed. They were clad in bright colors and carried umbrellas.
Those attending the story hour are often confronted by protestors carrying signs and shouting, but this time was the worst, Mink said. They shouted through at least one megaphone and tried to push through and confront the children and family members. At least one of their signs "had explicit sexual imagery," Mink said.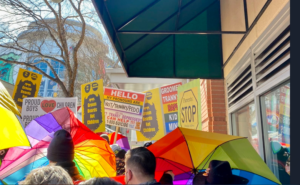 "They were shouting, 'You are bad parents,'" she added. "They kicked us, stomped at feet, shoved and pushed," she said.
According to Montgomery County Police, the Proud Boys showed up at Veteran's Plaza, and there was a confrontation between the two groups. The police spokesperson said that her department was not notified of the event beforehand.
"Police were called and dispersed the crowd," said Shiera Goff, director of public information for MCP. No one was arrested, and there were no reports of injuries, she wrote in an e-mail to myMCM.
However, Mink stressed that police did not disperse the crowd. The police had a presence and did get one of the Proud Boys to back off our line," she said. However, "They were not keeping us separate."
The Proud Boys, who wore self-identifying clothes, arrived in a U-Haul van and other vehicles "and came up very quickly as a group. They immediately tried to push their way through, but we held the line," Mink said.
"They were breaking our umbrellas. One person, they shoved her head into the window," Mink said. "It was such a crush," and one person's face was bloodied.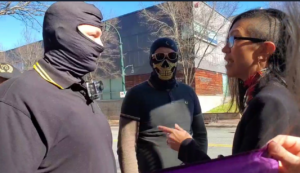 Mink said supporters continued to protect the children, and smiled and cheered as they entered the bookstore. They blasted music so the children couldn't hear what was happening.
Inside, the story hour went on unimpeded. The children danced the Hokey Pokey and listened to books read by Charlemagne Chateau.
Despite the confrontation, Mink said supporters would "absolutely" continue to support Drag Story Hour. "This just goes to show how important it is. People are signing up to be at the next one. We will never stop insuring they are able to proceed safely."
9/ The PBs continued coming directly up to us the entire event, kicking & pushing on occasion, shouting at families on megaphones, trying to show explicit images to kids upon entry & exit. We held the line and drowned them out with music & cheers.

They left when the event ended. pic.twitter.com/cLZ4NrLPl6

— Kristin Mink, Montgomery County Council (MD) (@KristinMink_) February 19, 2023

Photos courtesy of Kristin Mink