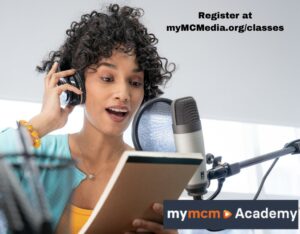 Montgomery Community Media will hold a virtual open house this Friday, Sept. 17 at 5:30 p.m. for participants to learn about upcoming courses, programming and free events this fall.
Whether media-making is your passion or profession, MyMCM offers programming for everyone. Participants have the opportunity to take courses to earn certifications, use MyMCM facilities and even air content on our cable access channels. Courses are also suited for those ready to make the transition to media as a career.
Class participants can learn about pre-production skills like developing a concept, along with technical skills like production and editing. Take courses in podcasting, web and television series development, and editing/video production, among other subjects, via Zoom. See upcoming fall courses and programming here.
MyMCM also has a Youth Media Academy that offers media instruction and leadership training to youths ages 11-17 taught by Montgomery Community Media professionals.
Register for the virtual open house here.
Those who cannot attend the open house and have additional questions can reach out to ECE@mymcmedia.org. Hear more about the event from MyMCM Director of Education and Community Engagement Dr. Khadijah Ali-Coleman.