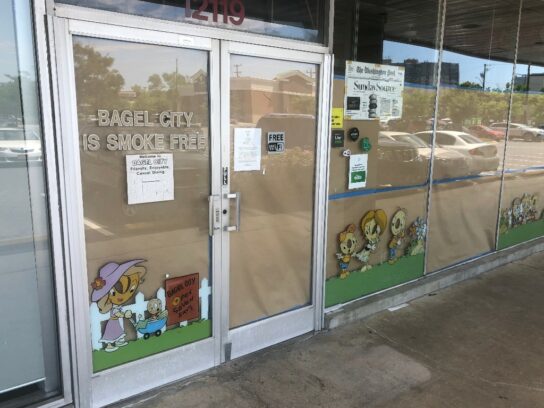 All indications are that Bagel City in Rockville has gone out of business.
For over 40 years, the popular deli has been serving up bagels at its familiar location at the Pike Center on Rockville Pike.
MyMCMedia has not heard back from the owners for confirmation but all indications point to the shop being closed for good:
The Bagel City sign above the entrance is gone, a "For Lease" sign is hanging in the window, cardboard covers the windows from the inside and the phone number has been disconnected.
One of Bagel City's business neighbors at the Pike Center told MyMCMedia that the shop has indeed gone out of business.
The restaurant has been closed since the beginning of the coronavirus pandemic but every indication was that it would eventually reopen.
Bagel City had posted this message for the last several weeks:
Customers,
For the safety of our community, customers and employees, Bagel City will be temporarily closed due to COVID-19. Sorry for the inconvenience.
Bagel City Management
"Temporarily closed" appears to have turned into permanently closed.
For the past several years, rumors had swirled of Bagel City's imminent closing and now it looks like – after a 40+ year run – that that has sadly come to fruition.