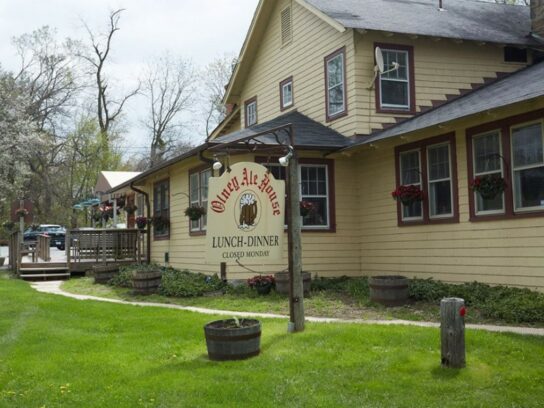 The Montgomery County Green Bank and Sandy Spring Bank have teamed up to finance the re-opening of the Olney Ale House.
The Olney Ale House is re-opening with the help of the Green Bank and @sandyspringbank to provide flexible financing through the Commercial Loan for Energy Efficiency and Renewables program!

Visit our website for the full details: https://t.co/IkMt6xMpfZ pic.twitter.com/vj510cl7Rv

— Montgomery County Green Bank (@MCGreenBank) July 20, 2021
The ale house has been closed since 2019 when a kitchen fire caused $250 thousand in damages. New building plans had to be made for the hundred-year-old building and the pandemic pushed the opening date back even further.
Now, as part of the Commerical Loan for Energy Efficiency and Renewables (CLEER) Program, the Olney Ale House will receive a loan to help pay for the installation of more efficient cooking equipment, air handling, window and climate controls. The kitchen will also be redesigned to assist in the pandemic fueled growing take-out and delivery business, according to a Green Bank press release.
"Thanks to community support and our partnership with the Montgomery County Green Bank and Sandy Spring Bank, we look forward to welcoming our guests back to the Ale House," said owner John Roach. "Because of funding through the Green Bank's CLEER program with Sandy Spring Bank, we're returning stronger, healthier, and more resilient than before."
A new reopening date for the ale house has not yet been released.
The CLEER program was created to support commercial, industrial, non-profit, institutional and multifamily properties through partnerships with community lenders to share the loan risk. The program supports the county's climate goals by allowing businesses to rebuild using energy-efficient measures that create healthier indoor spaces, reduce greenhouse gas emissions and bring down long-term operating costs while raising energy consumption benefits.
The program contributes to businesses with 100% financing, extended loan terms of up to 12 years and potential coverage of up to 30% of non-energy-related costs.
More information about Montgomery County Green Bank's efforts can be found on their website. To learn more about Sandy Spring Bank, visit the Sandy Spring Bank website.
Related Posts:
Seven Months After Fire, Olney Ale House Still Planning to Reopen