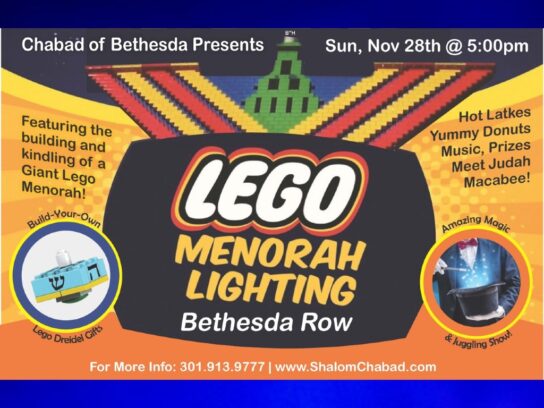 Bethesda Row invites families to celebrate Hanukkah this year at an interactive LEGO menorah build, hosted by Chabad of Bethesda.
The event is free to the public and does not require registration. Families will delight in chocolate gelt, Hanukkah music, and build-your-own LEGO dreidel gifts. A magic and juggling show will take place, and kids and parents alike can take a selfie with Judah Macabee.
Bethesda Row invites everyone to enjoy dinner from a nearby restaurant after the menorah lighting.
The event will take place across from the Apple Store on the first night of Hanukkah on Sunday, Nov. 28, at 5 p.m. For more information, visit www.shalomchabad.com or call 301.913.9777.