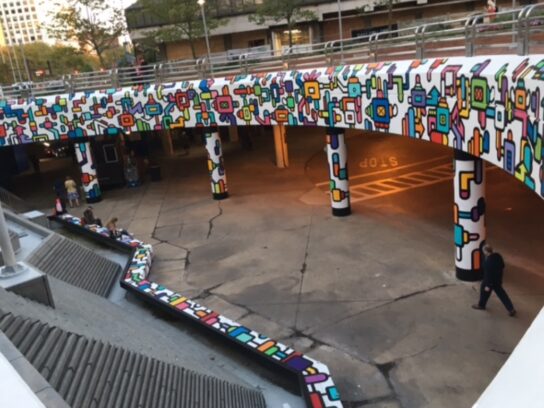 The Bethesda Urban Partnership is looking for an artist to design and paint a mural for the Old Georgetown Parking Garage for its 2021 Paint the Town Mural Competition.
The application will be due on Aug. 6, and artists must be 18 or older, a resident of Washington D.C., Maryland or Virginia, and a carrier of their own general liability insurance, according to Bethesda Urban Partnership.
The Bethesda Arts and Entertainment District and the county partnered with Bethesda Urban Partnership for this project in an effort to create more murals in downtown Bethesda.
This competition was first held in 2015, adding a mural to the Capital Crescent Trail Retaining Wall. The winners, Jessie Unterhalter and Katey Truhn, are based in Baltimore and are featured in many street art showcases.
The Bethesda Metro Center also received a mural from the 2016 winner of this competition, Juan Pineda.
"We are thrilled that our second 'Paint the Town' mural has been completed," Bethesda Arts and Entertainment District President Cathy Bernard said in 2016. "The Metro Bus Bay area is now a vibrant and inviting welcome to visitors and residents in downtown Bethesda."
The application requires a resume, samples, references and more, and the project must be finished four weeks after starting and by Nov. 15. The winner will be provided with a stipend of $27,500 for project related expenses. However, lifts and scaffolding will be provided.
Calling DC/MD/VA mural artists! The newest installment of Bethesda's Paint the Town is announced. Now seeking applicants for a mural for the Old Georgetown Parking Garage. Submissions due 8/6. Requirements, details & application: https://t.co/aBwM9tClXC pic.twitter.com/dDnduG4ffT

— BethesdaUP (@BethesdaUP) June 28, 2021