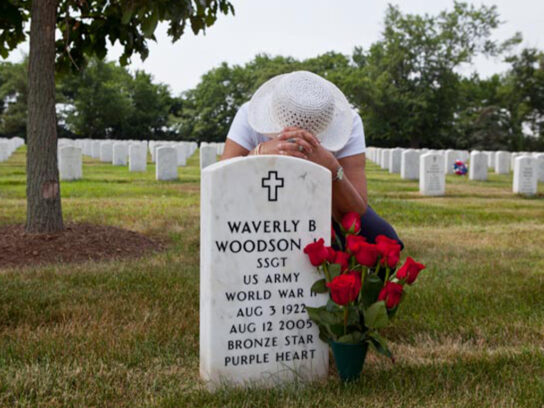 Joann Woodson spent years investigating contributions black residents made in Clarksburg's development since the 1800s.
Because of her research as president for the Clarksburg Historical Society, two new elementary schools were named after her ancestors: Snowden Farm Elementary School and Wilson Wims Elementary School. Through her work with Clarksburg Historical Society, Woodson, a lifelong resident of Montgomery County, has made sure the history of Clarksburg is recorded and honored throughout the community.
But now, Woodson is focusing on recent history. Her husband, Cpl. Waverly Woodson Jr., a veteran of World War II, died in 2005. He's buried in Arlington National Cemetery and received a Purple Heart and a Bronze Star. Ms. Woodson is now fighting to help her husband receive the Medal of Honor — the most prestigious military decoration — for his heroic efforts on D-Day.
After graduating from Pennsylvania's Lincoln University, Cpl. Woodson was an Army medic assigned to the 320th Barrage Balloon Battalion, the only all-black unit to land on Normandy on June 6, 1944. The battalion's job was to deter German plans by setting up explosive rigged balloons.
On the morning of June 6, 1944, Waverly Woodson was wounded by shrapnel while aboard his landing craft tank on his way to Omaha Beach. Despite the injury, Cpl. Woodson proceeded to spend 30 hours saving hundreds of his fellow soldiers.
"He had to administer over the dying, he had to do amputations, he was there to really patch up folks," said Ms. Woodson.
In his Witness to D-Day Statement, Cpl. Woodson said, "I didn't have time to see how bad I was wounded. I know I was…but I only wanted to help the survivors."
Ms. Woodson said her husband hasn't received the Medal of Honor because the Army says there's a lack of documentation. Part of the lack of documents, however, is because of a 1973 fire in St. Louis that destroyed millions of military personnel files, including Cpl. Woodson's military records.
In the 2015 book "The Untold Story of D-Day's Black Heroes, at Home and at War," Linda Hervieux cites a memorandum from the Roosevelt White House from War Department aide Philleo Nash that says, "Here is a Negro from Philadelphia who has been recommended for a suitable award. He was first recommended by his C.O. for a Distinguished Service Cross, but General Lee's offices said the act merited a Congressional medal … This is a big enough award so that the President can give it personally…."
In July, U.S. Sen Chris Van Hollen (D-Md.) along with 51 members of the Congressional Black Caucus, signed a letter to the U.S. Army Secretary asking that the Army review the possibility of awarding Waverly Woodson the medal posthumously. The letter included Hervieux's research as evidence that Cpl. Woodson was recommended by his commanding officers to receive the Medal of Honor.
https://www.instagram.com/p/B9XZVvWBpSl/
"Based on extensive research on his service record, it is clear that Cpl. Woodson did not receive the Medal of Honor during WWII because of the color of his skin," the letter to the Army says. "Accordingly, we respectfully ask the Army to rectify this historic injustice and appropriately recognize this valorous Veteran with a posthumous recommendation for the Medal of Honor."
Van Hollen sent a statement to MyMCMedia about Cpl. Woodson:
Corporal Waverly Woodson was a hero who put himself in the line of fire to save his fellow soldiers. He saved dozens, maybe hundreds of lives on D-Day and deserves every recognition for his selfless service to his country. I'm disappointed that the process to posthumously award him with a Medal of Honor has been delayed thus far, but I will continue to fight hard alongside members of the Congressional Black Caucus to right this wrong. I look forward to working with the Army to recognize this extraordinary man.
Despite the obstacles, Woodson continues to fight to ensure black contributions to society are not erased from history. And if her late husband is posthumously awarded the Medal of Freedom, Ms. Woodson pledges to donate the award to the National Museum of African American History and Culture in Washington, D.C.
"History will be here forever and I think that there are so many contributions that have been made that really don't even get recognized," Woodson said.