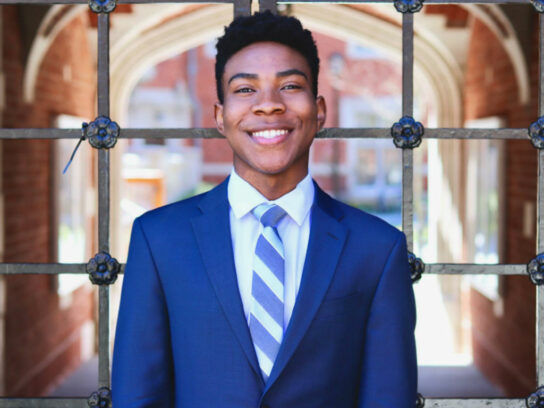 At 19-years-old, Kahlil Greene of Germantown is already a Montgomery County Black History-maker.
Greene was elected the first black student body president of Yale University. His term as student body president started in May 2019 and it concludes in May 2020.
MyMCMedia caught up with Greene, who is currently a junior studying U.S. History and Economics, to talk about what he's accomplished as Yale's president and his goals for the future.
Greene on Breaking Barriers as Yale's First Black Student Body President
Kahlil Greene has received a lot of media coverage since the news broke that he was the first black student body president of Yale University since its first student government started in 1884.
Greene was interviewed about the barriers he broke by Fox 5, WUSA9, and he was even interviewed by Don Lemon on CNN.
When asked about his personal role models, Greene said Edward Bouchet, the first black graduate of Yale, is someone he admires since he has paved the way for others to follow in his example.
Greene's Achievements as Yale Student Body Presidents
As Yale's study body president, Kahlil Greene, and the rest of the student government have made a lot of improvements to the university, including:
Organizing programs between the university and the New Haven, Conn. community;
Helping put forward a provision to provide menstrual products in all residential colleges;
Helping Yale join the endowment justice coalition, which pushes the university to make decisions that are bettering the world and the environment;
Helping to work on allowing Yale students to get certificates since Yale doesn't have a minor program;
Helping launch YCC Affinity Network, which helps students that are underrepresented connect with students of the same identity.
"I'm the first black student body president but I don't want to be the last," Greene said.
Greene Talks About Growing Up in Montgomery County
Kahlil Greene grew up in Germantown and attended Poolesville High School. When he returns to Montgomery County from break, Greene has a lot of activities he enjoys partaking in.
Some of Greene's favorite Montgomery County related activities include going to the Rio, eating at Uncle Julio's, getting dessert from Lilly MaGilly's Cupcakes, going to the Montgomery County Fair, visiting the BlackRock Center for the Arts, and watching a movie at the Rio in Gaithersburg and Regal Germantown.
Greene Talks Getting Inducted Into Boys and Girls Club Hall of Fame
In January, Kahlil Greene was inducted into Boys & Girls Club of Greater Washington's Hall of Fame. Greene was involved in the Germantown Boys & Girls Club when he was in elementary school and middle school.
Greene said he's become more involved in the Boys & Girls Club since he's learned that more of the clubs are closing. During his winter break away from Yale, Greene raised about $7,000 for the Boys & Girls Club of Greater Washington.
Greene on His Studies, Plans for Future
As Kahlil Greene's term as Yale's student body president comes to an end in May, Greene still has a lot to look forward to. Over the summer, Greene said he will work with U.S. Rep. Sheila Jackson Lee (D-Texas) on reparations and he'll also work on racial equity education legislation with Montgomery County Councilmember Craig Rice.
After he graduates from Yale, Greene said he's considering going to graduate school. As of now, Greene said he doesn't have any plans to run for office in the future.
"I always tell people that you can achieve any dream that you have so long that you have a good plan and you have discipline," Greene said.