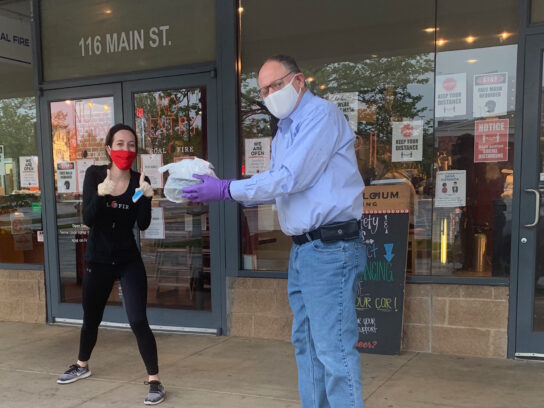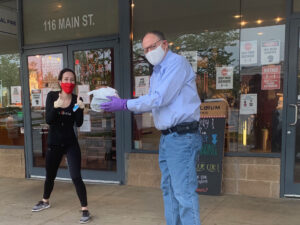 I think it's safe to assume the landscape of the service industry has changed dramatically. Ordering delivery and takeout has become a lifeline for restaurants and customers alike. As someone who has worked in the industry – in many facets from the back & front of the house & in management – my heart goes out to them.
The National Restaurant Association has reported "the restaurant industry, more than any other industry in the nation, has suffered the most significant sales and job losses since the COVID-19 outbreak began. So far, more than 8 million restaurant employees have been laid off or furloughed, and the industry will lose $80 billion in sales by the end of April." Astonishing!
As the state issued restrictions on restaurants and breweries, all of our service-related business in Montgomery County were faced with one question – what do we do now? As some restaurants decided it was best to shutter for now, others remain open and amazingly came up with creative and new ways to keep our palettes pleased and satisfy any craving we may have.
Trust me when I say creative. Restaurants are offering much more than food, they are selling products such as oil, toilet paper, yeast, flour, etc. in bulk. Some are offering unprepared steaks, chicken and seafood for sale.
A Rockville brewery designed a new app – Biermi – that connects beer consumers directly to breweries. It includes one of the Gaithersburg-Germantown Chamber's (GGCC) newest Chamber Members, Clear Skies Meadery in the Kentlands, who haven't even officially opened their doors yet due to the pandemic.
Just yesterday, GGCC member Caribbean Caterers opened an online store so area families can stock their fridges with their new #AloneTogether menus.
From the beginning, the GGCC has been on the forefront to help all restaurants, breweries, and service-related businesses with its "COVID-19 Resource Page" which includes the section – "Help Chamber Restaurants During COVID-19", a quick guide to how Chamber Member and local restaurants are serving (take-out, curbside, delivery). It breaks off into two sections that include all service-related industries in the Gaithersburg and Germantown areas and how they are serving too.
We wanted to help more and decided to increase the coverage area for restaurants in need of support.
Stemming from the national campaign – The Great American Takeout- the GGCC team, working with its elected officials, the Upcounty Regional Services Center, and the Clarksburg Chamber, to develop a plan that supports restaurants who are open during the public health emergency and allows customers to enjoy their favorite dish during these unprecedented times; all while keeping everyone safe during COVID-19.
This week, the GGCC launched "Eat Up! Upcounty", an initiative encouraging the Upcounty of Montgomery County to support the restaurants and breweries they love during the COVID-19 pandemic. An extensive list of area restaurants, breweries, wineries, bakeries, and dessert shops to get everything in one place for you. The list includes Gaithersburg, Germantown, Clarksburg, Damascus, Montgomery Village, and Poolesville.
"This is a great way to help support our restaurants," said Marilyn Balcombe, GGCC president / CEO. "We need to keep them open for business."
A sincere thank you to our elected officials in the County, State and Federal Delegation who are supporting this endeavor. They include Montgomery County Executive Marc Elrich; Montgomery County Councilmen Craig Rice, Sidney Katz, & Andrew Friedson; District 15 State Senator Brian Feldman; and Delegates Kathleen Dumais, Lily Qi and David Fraser-Hidalgo; District 39 State Senator Nancy King; and Delegates Gabriel Acevero, Kirill Reznik and Lesley Lopez.
Here's how our Upcounty elected officials spent the day eating "Eat Up! Upcounty" on Tuesday:
"We are all in this together and our local restaurants need our help. I encourage everyone that is able, to order takeout today!" -State Delegate David Fraser-Hidalgo
"For those of us who represent the Upcounty portion of MoCo, please join forces with us every Tuesday in supporting our Upcounty restaurants for "Takeout Tuesdays", helping them survive. For a list of area restaurants, go to: https://bit.ly/3cEOdkm. A big shout out to the Gaithersburg-Germantown Chamber and Clarksburg Chamber of Commerce for organizing this effort." -State Senator Brian Feldman
"It's #TakeoutTuesday and I picked up dinner at Jimmy John's in Germantown tonight. I encourage you to support our local restaurants as much as you can during this difficult time. We will get through this." -Montgomery County Executive Marc Elrich
"After an 8.5-hour marathon of a virtual @MoCoCouncilMD budget session today, thrilled to head up to @Poolesville_MD for curbside pickup from Bassett's, one of my favorite spots in one of my favorite towns as part of #EatUp @MontgomeryCoMD." -Montgomery County Councilmember Andrew Friedson
"For tonight's #EatUp County #TakeOutTuesday, I wanted to try a new place I've never eaten at before, preferably Italian. The winner was Carrabba's Italian Grill in Germantown. A delicious Chicken Parm dinner, yummy." -State Senator Brian Feldman
"In the Kentlands for #TakeoutTuesday. Curbside pickup, great food and social distancing make for a great end to the day!" -Councilmember Sidney Katz"My family and I are about to #EatUp tonight. Patronize one of our fine Upcounty restaurants this evening and support your local businesses." – Councilmember Craig Rice
"After an extended zoom virtual @MoCoCouncilMD budget session today, I hit up @SmartUrbanLivin #downtowncrown for curbside pickup from @TedsBULLETIN, one of my girl's fav places as part of #EatUp @MontgomeryCoMD." –Councilmember Craig Rice
"The Monroe's have done their part to eat Upcounty on this take out Tuesday and pay homage to our hometown Philly. And yes, we supported local; from our city Gaithersburg." -Yvette Monroe, former City of Gaithersburg councilmember
How can you help?
The best way to do that is by placing orders for their delicious food and tantalizing beverages! Support the restaurants & breweries you love during the COVID-19 pandemic. Eat a meal at home while still supporting local restaurants as part of a coalition of restaurants in the Upcounty of Montgomery County, Md.
Every Tuesday is earmarked as "Takeout Tuesday", a campaign social media-focused and aimed at encouraging Marylanders to order takeout from their favorite restaurants.
Simply, we need your help to keep these amazing establishments open during these hard times. We encourage you to order from your favorite Upcounty Restaurant on takeout Tuesday or whenever you feel like sitting back, relaxing and letting someone else do the cooking.
Please post selfies & pictures when patronizing Upcounty. Have fun with it and most importantly support our local restaurants.
Support #UpcountyTogether! After all, we're in this together. The GGCC is here to help. If we can be of resource to you during these difficult times, please do not hesitate to contact us.
————-
Tags: #EATUPCOUNTY #EATLOCAL #EATUP
RESTAURANTS:
EAT UP | https://bit.ly/3cEOdkm
GAITHERSBURG | https://bit.ly/2Kt2e8O
GERMANTOWN | https://bit.ly/2VtLapr
DAMASCUS | https://bit.ly/2Kt3mcy
POOLESVILLE | https://bit.ly/2zk8q0p
CLARKSBURG | https://bit.ly/3bytmPE
MORE INFO: ggchamber.org/eat-up-upcounty/