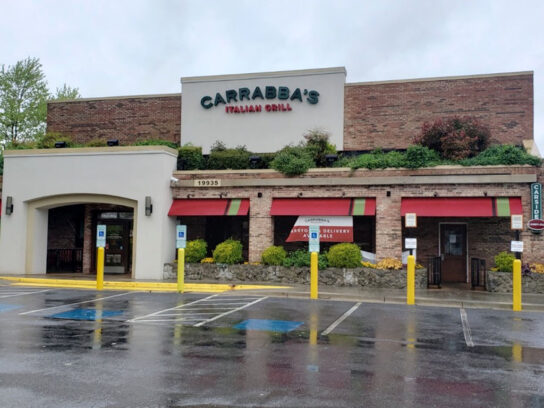 Over 200 workers in in Montgomery County for Bonefish Grill, Carrabba's Italian Grill, and Outback Steakhouse are part of a 60 days notice of possible layoffs or reduced hours because of the impact of the coronavirus closures.
The three restaurants are owned by Bloomin' Brands. On Monday, Bloomin' Brands filed a  mass layoff Work Adjustment and Retraining Notification (WARN) with Maryland's Department of Labor.
The U.S. Department of Labor explains that a WARN filing "protects workers, their families, and communities by requiring employers with 100 or more employees … to provide at least 60 calendar days advance written notice of a plant closing and mass layoff affecting 50 or more employees at a single site of employment.
https://www.instagram.com/p/B_nucOCBvVc/
Elizabeth Watts, a spokesperson for Bloomin' Brands, tells MyMCMedia in an email that the company has not made any layoffs locally, and doesn't plan to make any.
"WARN is not limited to the end of employment but also applies to other changes in circumstances. In our case, this was the reduction of hours due to dining room closures. Therefore, we were required to send the legal notice," Watts said.
According to Washington Business Journal, this WARN notice affects "nearly 3,000 workers" at the popular restaurants chains around Maryland.
Bloomin' Brands filed four WARN notices for the following restaurants in Montgomery County.
Bonefish Grill in Gaithersburg – affecting 51 employees.
Carrabba's Italian Grill in Germantown – affecting 63 employees.
Outback Steakhouse in Germantown – affecting 63 employees.
Outback Steakhouse in Silver Spring – affecting 53 employees.
Watts said the employees in the WARN notices "includes both those employees who are currently working in take away and delivery at our restaurants as well as those who do not currently have hours because dining rooms closed."
She adds that,"In the meantime, we have provided relief pay for six weeks, and we assess our ability to continue to do so every two weeks.  We are also covering 100% of the cost of benefits during this time."
Watts said as other states are reopening restaurants, more of their workers have been recalled nationwide.