The Carnegie at Washingtonian Center, a Kisco Senior Living community, celebrated the grand opening of its offsite Discovery Center in Downtown Crown with a ribbon-cutting ceremony and champagne toast.
The Gaithersburg-Germantown Chamber of Commerce (GGCC) and Gaithersburg Mayor Jud Ashman conducted the ribbon cutting with Kisco Senior Living leaders at The Carnegie's Discovery Center on Aug. 10. The Discovery Center, located at 129 Ellington Boulevard, is home to the initial team members for The Carnegie ahead of the community's opening in spring 2024. Kisco Senior Living broke ground on The Carnegie at Washingtonian Center in October 2021. The Carnegie will be a Kisco Signature community, providing residents with a fresh perspective on senior living with resort-style amenities and elevated standards of hospitality. The Carnegie will offer spacious one- and two-bedroom floorplans for independent living, assisted living and memory care residences.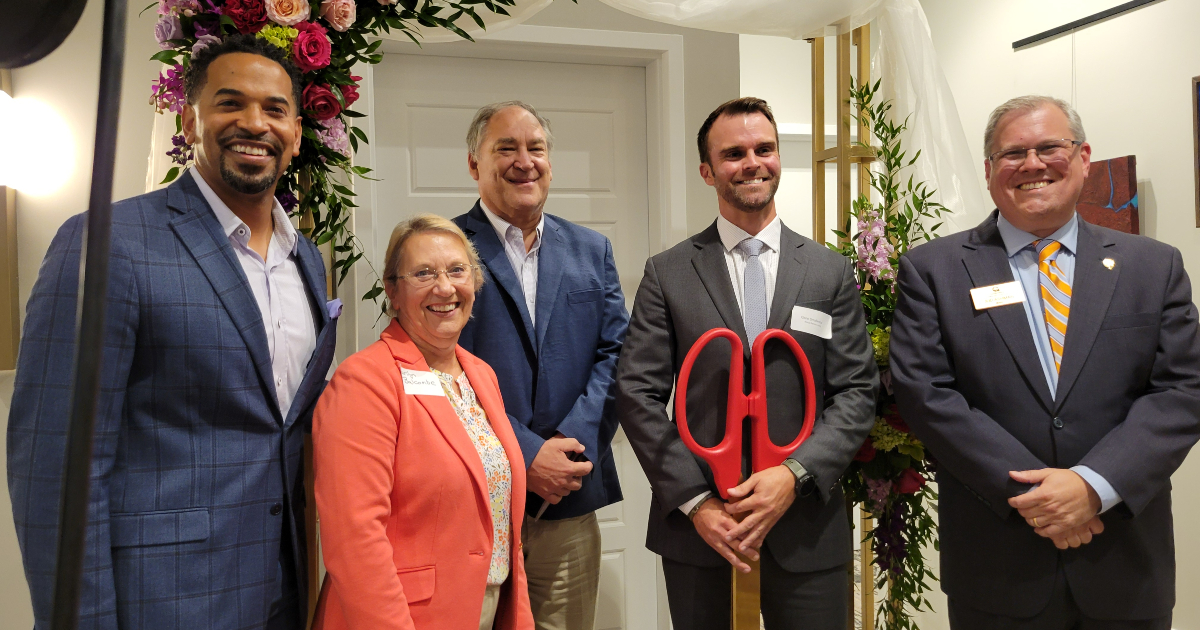 Montgomery County Councilmember Will Jawando; Marilyn Balcombe, president and CEO of Gaithersburg-Germantown Chamber of Commerce; Montgomery County Executive Marc Elrich; Gene Smallwood, regional vice president of sales at Kisco Senior Living; and City of Gaithersburg Mayor Jud Ashman celebrate the grand opening of the Carnegie at Washingtonian Center Discovery Center at Downtown Crown in Gaithersburg, Maryland on August 10, 2022. (Photo Credit: Laura Rowles, GGCC Director of Marketing)
"We welcome anyone interested in learning more about Kisco, The Carnegie and Signature Lifestyle offerings to visit our Discovery Center," said Gene Smallwood, regional vice president of sales at Kisco Senior Living. "Our Signature communities like The Carnegie will embody an elevated and distinctive experience for seniors who desire highly personalized and exceptional services."
Visitors to the Discovery Center can view a full-size model of a two-bedroom apartment, including the identical décor and fixtures that will be utilized inside The Carnegie residences and public spaces. The Discovery Center also provides an immersive look at what life at The Carnegie will be like for residents by leveraging immersive video and interactive smart screen technology.
The Discovery Center is also home to a rotating art gallery highlighting work produced by local artists. The art gallery is the result of a collaboration with G-PARC's Arts & Culture Alliance. Artwork currently on display was submitted by members of the Gaithersburg Artist Collective and includes acrylic and watercolor paintings, photography, mixed media, wood carving and jewelry.