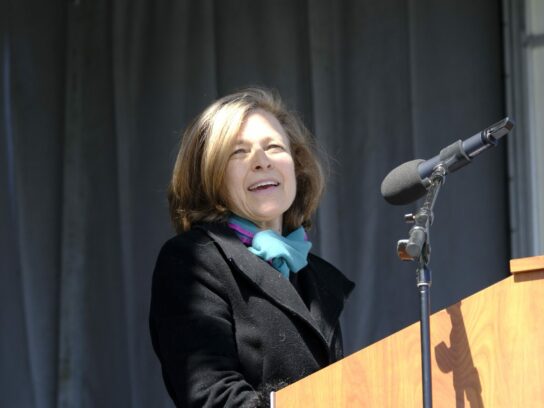 Sarah Bloom Raskin of Takoma Park withdrew her nomination by President Joe Biden for vice chair for supervision of the Federal Reserve Board of Governors.
Bloom Raskin, the wife of U.S. Rep. Jamie Raskin (D-8), had support from the banking and financial services community, former members of the Board of Governors, Nobel Prize winners, and many others, according to a statement released by Biden on March 15.
However, she apparently did not have enough votes in the U.S. Senate for confirmation.
"Despite her readiness—and despite having been confirmed by the Senate with broad, bipartisan support twice in the past—Sarah was subject to baseless attacks from industry and conservative interest groups. Unfortunately, Senate Republicans are more focused on amplifying these false claims and protecting special interests than taking important steps toward addressing inflation and lowering costs for the American people," Biden wrote.
He thanked Bloom Raskin for her previous service, noting, "I look forward to her future contributions to our country."
During County Executive Marc Elrich's weekly news briefing Wednesday, he said he was disappointed that Bloom Raskin will not be confirmed. "She faced stiff opposition in the Senate based on her stance on climate change and the fear that she could discourage banks from lending to fossil fuel companies."
He added, "It's a shame that in 2022 an incredibly talented leader such as Sarah Bloom Raskin could be blackballed in serving this nation on believing in science and common sense."
Related Post
Biden Nominates Bloom Raskin of Takoma Park to Federal Reserve