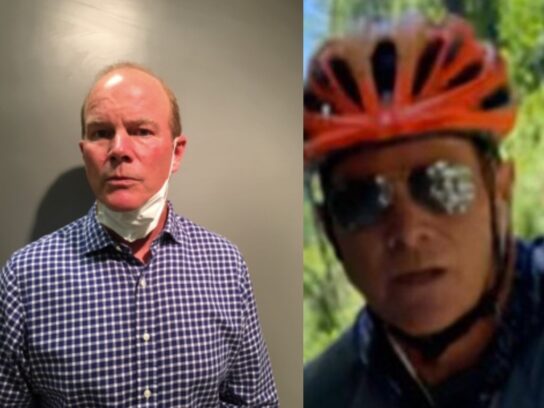 Maryland-National Capital Park Police announced on Twitter they have arrested and charged a man in connection to the June 1 assault at the Capital Crescent Trail in Bethesda.
Police have identified the man as 60-year-old Anthony Brennan of Kensington. Brennan faces three counts of second-degree assault. Second degree assault is punishable by a maximum of 10 years of incarceration along with $2,500 fine for each second degree assault.
A video of the assault at the Capital Crescent Trail near Dalecarlia Tunnel has gone viral online and has made the national news. The video shows Brennan, wearing a helmet, arguing with three young adults—one male and two females—who were posting flyers in support of the Black Lives Matter movement. Brennan is shown taking the flyers from a female victim and he then pushes his bicycle into a male victim, causing the victim to fall to the ground.
After a video of the incident was viewed millions of times on social media, police say they received "hundreds of tips." On social media, many people openly speculated about the identity of the suspect and amplified incorrect names.
— Park Police MC (@ParkPolice) June 6, 2020
Police say detectives "utilized various sources to further corroborate the information provided by the community before developing Mr. Brennan as a primary suspect." Police made contact with Brennan and Brennan's legal counsel Friday and received consent to search his home, with Park Police and members of the State's Attorney's office present. During the search, police seized "items of evidentiary value."
On Friday evening, police say, "A subsequent arrest warrant was obtained and served on Mr. Brennan this evening after he voluntarily turned himself into detectives."
Police thanked community members for their help, saying the following:
The Maryland-National Capital Park Police appreciates the courage and civic engagement of the victims who came forward in this matter. We thank the community for the abundance of tips and information shared. In addition, we are grateful for technical assistance provided by the Montgomery County Department of Police, Criminal Investigations Division, and the legal support of the Montgomery County State's Attorney's Office.
This is a developing story and will be updated.