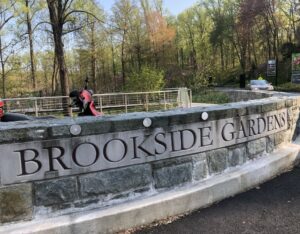 Brookside Gardens in Wheaton made Yelp's "Top 25 gardens in North America," their all-time list of the top botanical gardens across the United States and Canada.
Brookside Gardens is an award-winning public display garden popular among Montgomery County residents for its luscious landscape. The gardens have become a local favorite destination for enjoying nature and art, as well as a wedding venue.
The gardens' latest art installations include the "Facets of Hope" exhibit made to honor the lives in Montgomery County lost to COVID-19 and the "Middle Eastern American Artists in the Garden and Beyond" highlighting Middle Eastern art.
Yelp based their rankings using a number of factors including the total volume and ratings of reviews of businesses identified under the botanical gardens category. Brookside Gardens placed 25th.
For those interested in visiting Brookside Gardens, they are open to the public daily with the outdoor gardens open from 7 a.m. to 5 p.m., and the visitor center open from 10 a.m. to 2 p.m.