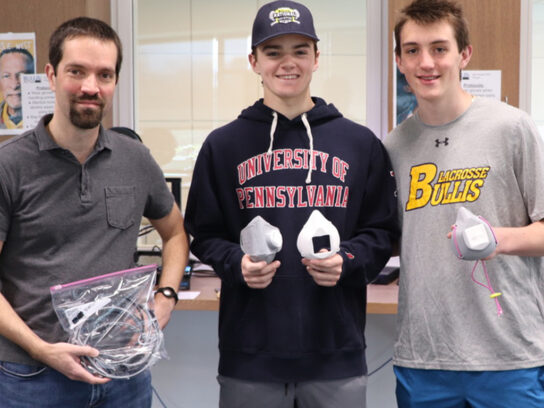 The Bullis School in Potomac is utilizing its Bullis Innovation and Technology Lab (BITLab) 3D printers to make N95 masks and face shield bands for medical workers and first responders.
Ethan Till and Tyler Kuehl — both juniors at Bullis — started 3D printing N95 masks once their school moved to online learning because of the coronavirus pandemic. After seeing news reports on the shortage of personal protective equipment (PPE) for medical workers caring for coronavirus patients, the boys started researching free 3D printer designs for N95 masks.
Gerald Boarman, head of school at Bullis, said the two boys reached out to him asking permission to use the 3D printers in the lab to print the designs. Boarman was happy to allow the boys to use the printers for such a worthy cause.
Till and Kuel spent time printing prototypes of masks to find the right design. They eventually settled on a universal mask design that can fit to anybody's face. So far, the boys have printed four masks. Kuel said their goal is to print three to six per day.
Ethan Till '21 models the plastic masks he, Tyler Kuehl '21, and Will Green '20 made in the Bullis BITlab as their prototype. They plan to produce & donate masks to first responders. #BullisServes #BullisProud #BullisSignaturePrograms pic.twitter.com/QuWEZbvSVF

— Bullis School (@BullisSchool) March 24, 2020
The boys have been joined in the lab by Matt Zigler, the BITLab coordinator at Bullis. Zigler is also using the 3D printers for a parallel effort. He's printing the frame structures for medical face shields, which are worn above a mask for extra protection.
The frame structure was designed by Open Works, a maker-space group in Baltimore. Open Works is creating the face shields and has recruited people with 3D printers to print the frame structure since it takes more work to create. Once Zigler prints the frame structure at the BITLab, he sends them to Open Works, where they are sanitized, made into face shields and donated to Baltimore area hospitals.
Zigler says it takes about six hours to print each design, but he plans to work with Open Works to continue printing the design for as long as the medical community needs them.
Awesome, I just packed up our first batch and started the second. #makersunite @BullisSchool @Prusa3D https://t.co/2K5VDamFpD pic.twitter.com/TfM0jsOvbX

— Matt Zigler (@BullisBITlab) March 26, 2020
Till and Kuel also plan to donate the face masks they make. Kuel's father, a board member of Suburban Hospital, is helping the boys get the masks approved as PPE for medical workers at nearby hospitals. If the masks aren't approved, the boys plan to donate them to local fire departments.
"All three of these individuals are really dedicated to helping others," said Boarman. "Part of the motto of Bullis is 'a caring community,' and they live that and they're living it in so many marvelous ways."
Till and Kuel have made verbal commitments to play lacrosse at University of Pennsylvania. They intend to continue their education together at the Wharton School of Business once they graduate from Bullis in 2021.