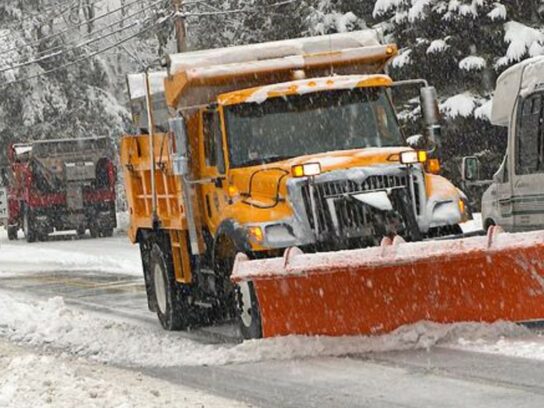 Las temperaturas se mantendrán por debajo del punto de congelación el viernes después de la nevada durante la noche, según el Servicio Meteorológico Nacional. Las Escuelas Públicas del Condado de Montgomery (MCPS) ahora están cerradas hoy, después de anunciar un retraso de dos horas el jueves por la noche. Todas las actividades escolares y comunitarias que se llevan a cabo en los edificios escolares están cerradas. Los programas de guardería también están cerrados.
Montgomery College ha retrasado las clases y actividades en persona hasta las 10:30 a.m. Las clases remotas o en línea continúan según lo programado el viernes.
La Policía del Estado de Maryland activó el plan de emergencia por nieve para el condado de Montgomery el jueves a las 8 p.m. Las carreteras interestatales 270, 370 y la circunvalación está restringida hasta que se cancele el plan.
Gobierno federal:
Las oficinas federales en el área de Washington, DC cerraron el viernes. Los empleados de emergencia y los empleados de teletrabajo continúan trabajando. Los empleados que no son de emergencia tienen la opción de licencia no programada o teletrabajo no programado.
Estado de Maryland:
Las oficinas e instalaciones estatales están cerradas hasta las 10 a.m. del viernes. Los empleados tienen la opción de una licencia por el resto del día. Los empleados de emergencia y esenciales continúan trabajando.
On Friday, January 7, 2022, State offices and facilities will be closed from 4 a.m. to 10:00 a.m. followed by liberal leave for the remainder of the day. Emergency Essential Employees should report as scheduled.

— MarylandStateClosing (@MdStateClosing) January 7, 2022
Condado de Montgomery:
El gobierno del condado de Montgomery abrirá sus puertas a las 10 a.m. del viernes. Las pruebas de COVID-19 y las clínicas de vacunación en el condado en la mayoría de los sitios continuarán según lo programado. El condado advierte que hay espacio limitado para esperar en el interior y necesita cita previa.
Los cambios en el horario de recreación del condado incluyen:
Todos los programas y actividades programados regularmente se cancelan.
Los centros para personas mayores están cerrados.
La basura y el reciclaje del condado pueden retrasarse. La estación de transferencia Shady Grove abrirá a las 10 a.m.
Metrobus:
Metrobus funciona con un plan de servicio de nieve moderada. Se suspenderá el servicio de autobús y habrá desvíos en ciertas rutas para evitar áreas propensas a condiciones peligrosas. Aproximadamente 119 de las 183 rutas operarán.
Los funcionarios de Metrobus advierten que cualquier servicio se detendrá si las carreteras se vuelven inseguras.
No se anticipan impactos relacionados con el clima en Metrorail en este momento.
Metro prepares for winter weather, @Metrobusinfo to operate on a moderate snow service plan Friday, January 7 https://t.co/uPBYGNW9UZ #wmata pic.twitter.com/y1ypKdPCI1

— Metro (@wmata) January 6, 2022