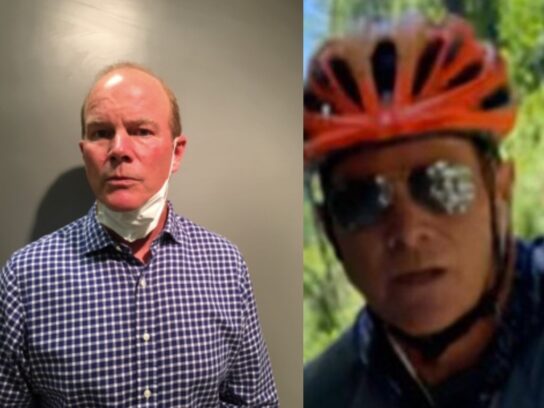 Anthony Brennan III, the Kensington man who was filmed and pleaded guilty to assaulting a group of young adults on the Capital Crescent Trail in Bethesda, was sentenced to three years probation on Tuesday.
During a virtual sentencing, Brennan, 61, was ordered to serve one year of supervised probation followed by two years unsupervised. During his first year, Brennan must complete an anger management program and be evaluated for possible further alcohol abuse treatment. He must not have any contact with victims. In a viral video filmed June 1, 2020, Brennan is seen confronting three people, who were ages 18-19 at the time. They were posting flyers in support of the Black Lives Matter movement and protesting the murder of George Floyd, which occurred one week prior. Brennan is shown grabbing a female victim and forcibly snatching tape from her. He then pushes his bicycle into the male victim, causing him to fall to the ground. Brennan pleaded guilty on Dec. 16, 2020 to three charges of second-degree assault.
All three victims were present for the virtual hearing. Callan Daniel, a victim along with her sister Sarah, read a statement sharing their trauma from the attack. She said Brennan began grabbing at her wrists trying to rip flyers away from her, and adrenaline took over and she defended herself. Then, Brennan turned to her sister. Video of the incident obtained by The Washington Post begins as Brennan turns away from Daniel and walks toward her sister.
"You turned away from me but to my horror, you charged at my sister, you loomed over her, ripping things from her hands, tearing at her wrists, screaming as you backed her against a fence," Daniel recalled.
"All the momentary strength I thought I had drained away and the realization set in that even between the two of us, we would likely be overpowered. The only thing I could do was get in between you and scream, so I did," she told Brennan.
"Those screams haunt my nightmares. You haunt my nightmares."
Callan Daniel, female victim: "You charged at my sister, you loomed over her, ripping things… screaming as you backed her against a fence… the only I could do was get in between you and scream… those screams haunt my nightmares. You haunt my nightmares." @mymcmedia https://t.co/TrTjVXwIQW

— Maryam Shahzad (@maryam_mcm) February 2, 2021
The last thing Brennan said as he rode away on his bicycle, Daniel said, was that the victims would never amount to anything.
"So I'd like to thank you Mr. Brennan," she said, "because now we have all the more reason to prove that we will."
Brennan apologized during the sentencing.
"I'm just so very sorry. I'm sorry what happened that day in June. I never meant to harm anyone. I'm so filled with deep, deep remorse," he said. He was in a "bad, fragile state of mind," he said and should have better controlled himself.
"To me it seems that God was sending me a message to change. I got that message. I'm doing all the things I can to make changes. I cannot defend my actions that day, I can only apologize, try to change and move on. We can all agree my behavior was wrong. Again I'm very, very sorry for what I've done to these young people."
Daniel said she would forgive Brennan one day. Isaac Hillman, a victim, said he does not think he will be ready to forgive Brennan for a "long, long time." He wants Brennan to consider whether his reformative actions discussed during the sentencing, like attending Alcoholics Anonymous meetings, comes from a real desire for self-improvement or from a position of being caught doing something wrong and having to suffer consequences.
"I want the defendant to really think about that and consider that," Hillman said.
David Moyse, one of Brennan's attorneys, said Brennan lost his job at the beginning of the pandemic and was sinking into a depression "fueled by his alcohol addiction and by his dependence on marijuana." Moyse said that after the June incident, the defendant spent almost one month in rehabilitation in Florida, and afterward stayed at a halfway recovery house in Maryland, the Oxford House, from July until Christmas Eve. Brennan also attends Alcoholics Anonymous meetings, Moyse said, which have become a part of his life.
Anthony Brennan: "I'm just so very sorry… To the victims, I think I understand your trauma… I pray this does not affect you in the long term… I lost control that day… it seems that God was sending me a message to change. I got that message." @mymcmedia https://t.co/TrTjVXwIQW

— Maryam Shahzad (@maryam_mcm) February 2, 2021