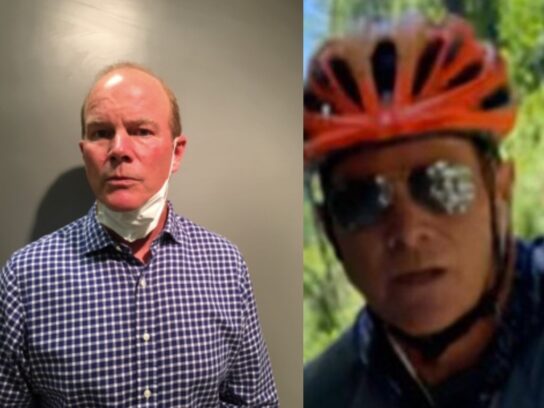 Anthony Brennan, III, the Kensington man who was filmed in a physical confrontation with a group of young adults in June, pleaded guilty to three charges of second-degree assault on Wednesday.
Brennan, 61,  will be sentenced Feb. 2, 2021, said Ramon Korionoff, spokesperson for the Montgomery County State's Attorney's Office. This summer, a video of a June 1 incident at the Capital Crescent Trail in Bethesda went viral and made national news. It shows Brennan, wearing a helmet, arguing with three young adults—one man and two women—who were posting flyers in support of the Black Lives Matter movement and protesting the murder of George Floyd. Floyd was a Black man killed by Minneapolis Police Officer Derek Chauvin on May 25, after Chauvin held his knee on Floyd's neck for almost nine minutes. In the viral video, Brennan is shown grabbing a female victim and forcibly snatching tape from her. He then pushes his bicycle into the male victim, causing the victim to fall to the ground. The Washington Post obtained the video for their coverage of the case.
After the video was viewed millions of times on social media, police say they received "hundreds of tips." Online, many people openly speculated about the identity of the suspect and amplified incorrect names. Social media lit up with accusations that a former Montgomery County Police Captain was the suspect.
Brennan was identified and arrested June 5. He was released the next day after posting bond, according to online case records. Brennan released a statement through his attorneys in which he said he is "sick with remorse for the pain and fear" he caused his three victims. He is represented by attorneys Andrew Jezic and David Moyse, of the Law Offices of Jezic & Moyse, LLC in Wheaton.
After Wednesday's guilty plea, Brennan's attorneys said he continues to be extremely remorseful.
"Today's [Wednesday] plea was another step in Mr. Brennan's effort to take full responsibility for his actions on the bike trail, he continues to be extremely remorseful for the damage he caused," Moyse said in a statement.