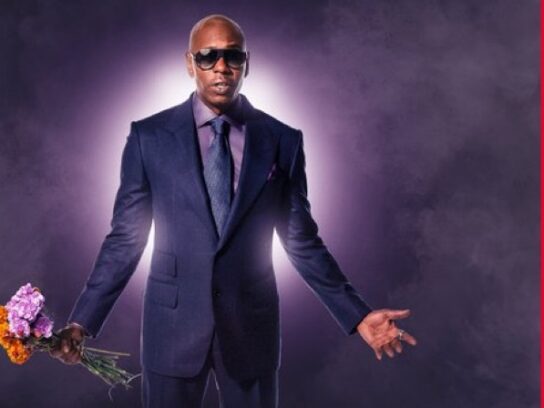 Stand-up comedian and actor Dave Chappelle surprised the audience at the Duke Ellington School of the Arts, his alma mater, when he declined the theater be named after him. 
His decision, announced Monday at the theater unveiling and dedication, came about eight months after he received widespread backlash from some in the LGBTQ community for his 2021 Netflix comedy special "The Closer," where he made jokes and comments about transgender women.
"We call it the Theater for Artistic Freedom and Expression because [that's] what I would want for myself and that's what I want for every student that goes to this school, and [I] feel like if that's threatened, then the society at large is threatened," Chappelle said to NBC4 Washington. "If artists feel stifled, then everyone's stifled, and I feel like artists have a responsibility to really be true to their art right now."
In a speech to the crowd Monday, Chappelle said he wanted to "defer" the renaming of his school's theater, in order to emphasize "the nuance of art," as well as "[his] right, [his] freedom of artistic expression" by renaming it, which was received with applause and a standing ovation, USA Today reports.
The Duke Ellington School had initially postponed naming the theater — which Chappelle said was the most significant honor of his life — following outcry against Chappelle's performance in "The Closer."
"No matter what they say about [it] it is still [one of the] most-watched specials on Netflix," USA Today reports that Chappelle said Monday. "The more you say I can't say something, the more urgent it is for me to say it. It has nothing to do with what you are saying I can't say. It has everything to do with my freedom of artistic expression."
Since the release of the special, Chappelle has stood in the same place
"I said what I said, and boy, I heard what you said. My God, how could I not? You said you want a safe working environment at Netflix. It seems like I'm the only one that can't go to the office anymore," Chappelle said in a video posted to Instagram back in October 2021, when the special had just been released. 
Netflix CEO Ted Sarandos responded to the initial criticism by saying that he did not think adding a content warning to the special was necessary – something Netflix employees had wanted, the Guardian reports.
"With 'The Closer,' we understand that the concern is not about offensive-to-some content, but titles which could increase real world harm … while some employees disagree, we have a strong belief that content on screen doesn't directly translate to real-world harm," he wrote in a memo emailed to Netflix staff.
A Silver Spring native, Chappelle graduated from The Duke Ellington School in 1991, and has since had an ongoing commitment and service to the school and to advocacy for the arts, the school website wrote.
Before attending the re-naming, Chappelle had spent the weekend in Maryland performing four shows at the Live! Casino & Hotel in Hanover, Maryland.