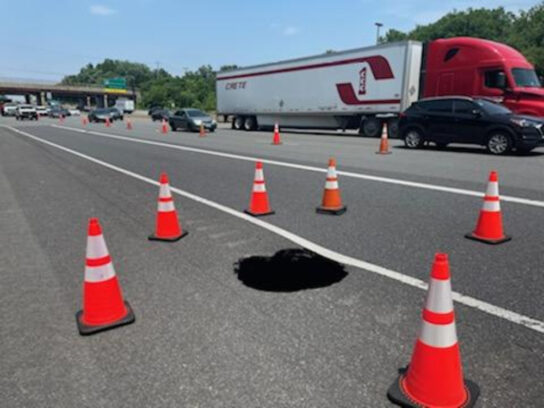 A 25-foot wide sinkhole that was discovered June 16 on southbound I-270 continues to plague drivers. Repairs are expected to last through mid-July.
The right two lanes of SB I-270 prior to I-370 in Gaithersburg were closed for emergency pipe repairs. Work now will proceed in the evening and overnight.

The Maryland State Highway Administration tweeted that a resurfacing project south of Maryland 109 will close lanes on southbound I-270 between 7 p.m. and 4 a.m.
🚧ICYMI🚧
Last week, @MDSHA began a resurfacing project on I-270 south of MD 109 in @MontgomeryCoMD Expect lane closures on southbound I-270 in this area, between 7:00pm-4:00am each night until mid-July 2022. (weather permitting)

▶️https://t.co/JNLnUcgloO #MDTraffic @311MC311 pic.twitter.com/5AP93WfFWp

— MCDOT (@MCDOTNow) June 21, 2022
Related Post