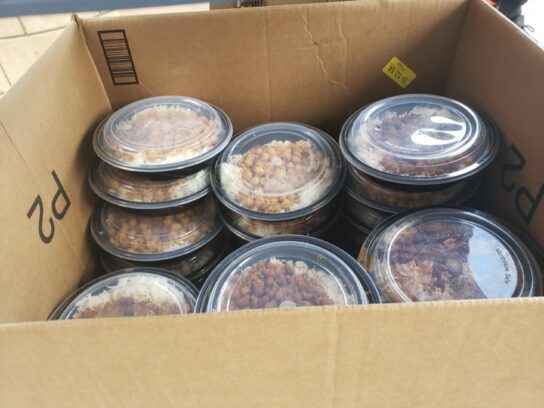 Small Things Matter, a non-profit that was created by a Montgomery Blair High School student, provided 600 spicy Indian curry meals Monday to anyone stopping by the high school in Silver Spring. The Guru Gobind Singh Foundation in Rockville provided the meals.
Lana Anderson, 16, is president of the student-led organization that provides Books for Bedtime as well as food. Its Crafting for Charity raises funds to pay for some expenses. It also has a host of partners that provide money and in-kind donations.
Its Kokua Foods Program currently serves more than 1,000 food in-secure families in Takoma Park, Silver Spring and Rockville.  Through in-kind and monetary donations, it distributes about 100,000 pounds of food each month as well as masks, toiletries, feminine hygiene products, paper towels, diapers, new books and baby food.
Roxanne Yamashita, executive director and Lana's mother, spoke with My MCMedia about the group's efforts.
Tomorrow, Mon, Dec 7, 11:00 am – 1:00 pm. We will provide MCPS meals & 600 FREE hot meals (rice / bean curry dish) for families, to pick up & take home. Thank you to Blair parent, Ms. Yamashita, Small Things Matter, http:/www.smallthingsmatter.org for this generous donation. pic.twitter.com/uXSvKaxnnm

— Renay Johnson (@blairprincipal) December 6, 2020