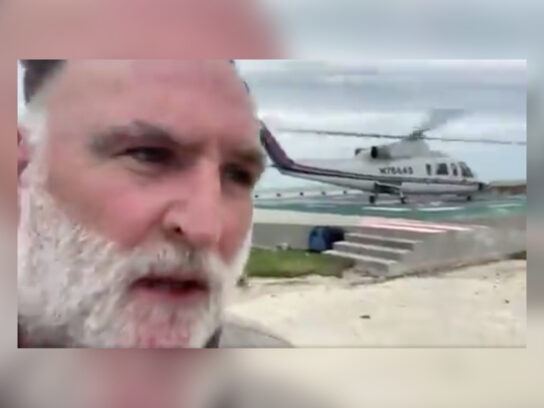 José Andrés, el popular chef, junto con su personal de World Central Kitchen resistió la tormenta durante el fin de semana para ayudar a las víctimas afectadas del huracán Dorian en las islas Abaco y Gran Bahama.
La organización sin fines de lucro World Central Kitchen, dirigida por el Chef José Andrés, es una organización que se dedica a proporcionar comidas a las víctimas afectadas por desastres naturales. El Chef es un residente de Bethesda con seis restaurantes en el área metropolitana de DC, incluido Jaleo en Bethesda.
El 29 de agosto, el equipo se detuvo por primera vez en Florida con dos helicópteros y un bote para prepararse para el huracán Dorian. En el pico de la tormenta el domingo, José Andrés tomó un helicóptero lleno de alimentos y suministros para preparar comidas a Nassau, Bahamas. Con el apoyo del gobierno de las Bahamas, el Chef y su equipo se instalaron en las cocinas del complejo más grande, Atlantis, en preparación para la distribución de alimentos.
El Centro Nacional de Huracanes afirmó, el domingo, que el huracán Dorian se había convertido en la tormenta más fuerte que azotó las Bahamas.
La tormenta golpeó las islas Abaco el lunes por la mañana como una categoría 5 y alcanzó vientos de 185 mph hasta 220 mph. Dorian azotó las islas con lluvias continuas e inundaciones que destruyeron comunidades.
Con las cocinas identificadas, José Andrés comenzó las entregas iniciales de alimentos en helicóptero a Abaco, el miércoles por la mañana.   
Reporting in from Marsh Harbor in Abaco where there is a lot of hungry people….We @WCKitchen are setting up a kitchen here now & will also be bringing thousands more meals tomorrow from Nassau. We have to move quick! #ChefsForBahamas pic.twitter.com/hmqEkKkO5l

— José Andrés (@chefjoseandres) September 4, 2019
El Chef José Andrés se aseguró de mantener contacto con Abaco y las Islas Gran Bahama para establecer cocinas de socorro en hoteles que han sobrevivido al huracán.
"Si se destruyen las cocinas, construimos una y cocinamos en grandes paelleras", tuiteó Andrés.
How do we organize a response in Bahamas? Here's our current map we are working from…. @WCKitchen has kitchens ready to go and shelters mapped out. If kitchens are destroyed, we build one and cook in big paella pans! https://t.co/yNzrfrKIaS pic.twitter.com/fa4sBN8qMe

— José Andrés (@chefjoseandres) September 1, 2019
El equipo ha estado preparando y haciendo más de 1,000 sándwiches de jamón y queso antes de ser entregados a Abaco. El gran esfuerzo de ayuda ahora está en marcha y tiene como objetivo entregar más de 30,000 comidas diarias.