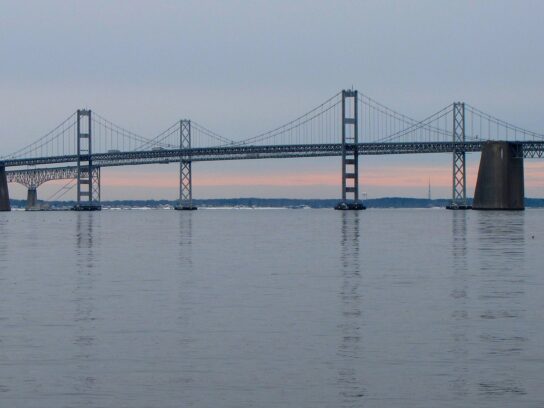 The Chesapeake Bay Foundation (CBF) is asking state officials to address problems in the two largest wastewater treatment plants in the state after a fire and explosion damaged a building at the Back River Wastewater Treatment Plant in Dundalk.
The CBF is calling on state officials to release information on the cause of the fire. Due to the seriousness of the incident and the spread of misinformation and conspiracy theories online, the CBF says it is important that this information is made public.
Information on the cause of the fire and how it will impact the plant's operations moving forward will help stop the spread of misinformation, according to the CBF. Additionally, the CBF is asking for more information on public and worker safety as well as how the plant will be fixed.
Chesapeake Bay Foundation is asking that officials review and address issues related to biosolids processing in Back River and Patapsco wastewater treatment plants.
The building damaged in the fire March 15 was used to dry out biosolids, or sludge, that had been separated from wastewater. Once separated the material would be used as fertilizer.
There is a history of problems related to sludge processing at Back River Plant and the Patapsco wastewater treatment plants. According to CBF,  operation and maintenance failures at the two plants created excessive pollution discharges. Failures led to sludge clogging up equipment used to separate solids from wastewater, according to reports from the state.
The CBF's Maryland Senior Scientist Doug Myers said these issues need to be addressed in order to protect the Bay.
"It's inexcusable that nearly two years after the litany of operations and maintenance problems were discovered at the Back River and Patapsco wastewater treatment plants that many of those problems still exist and have now led to serious questions about public and worker safety at the plants," Myers said in a press release. "It's imperative that immediate progress be made to fix the sludge processing problems at both plants."
According to CBF, the ongoing operation failures at the two plants are causing excessive amounts of pollutants to reach the Chesapeake Bay. From January to November 2022, the Patapsco plant exceeded their annual limit for nitrogen pollution by 1.4 million pounds, nearly triple their limit. In 2022 the Chesapeake Bay Program reported that over 2.5 million pounds of excess nitrogen reached the Bay due to operations failures at the two wastewater plants.
These increases in nitrogen and phosphorus are threatening Maryland's Bay restoration goals, according to the CBF. Maryland's Bay cleanup plan is dependent on significant pollution reductions from wastewater plants.
"These are two of the most significant pieces of public infrastructure in the state and decisive leadership is sorely needed to bring them back to basic operating standards," Myers said in a press release. "Until the plants are operating properly, water quality in Back River, Patapsco River, and the Chesapeake Bay is threatened."
Chesapeake Bay Foundation is asking for urgency to fix sludge issues at Back River and Patapsco wastewater treatment plants that have now been present for years after yesterday's explosion and fire at the Back River plant: https://t.co/iLpKKwJfbn

— AJ Metcalf (@AJwatchMD) March 16, 2023
(Photo by Ben Schumin on Flickr (CC BY-SA 2.0) | https://www.flickr.com/photos/schuminweb/50982776857)