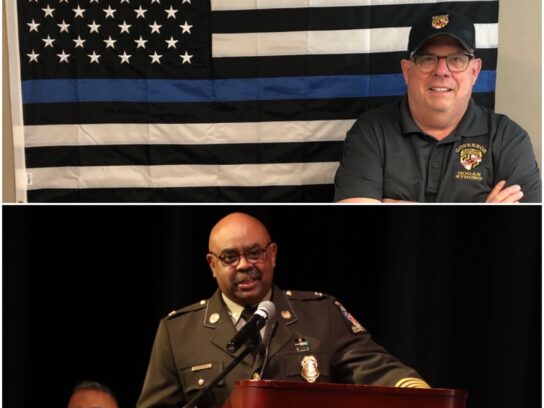 Montgomery County Police Chief Marcus Jones weighed in on the Thin Blue Line Flag controversy on Friday night.
After he was officially sworn in as police chief at Gaithersburg High School, Jones told MyMCMedia that his goal to work through the strong feelings on both sides of the debate.
Jones noted that the flag has been "hijacked" by the Blue Lives Matter movement, adding that the Thin Blue Line flag is a "separate issue" and its meaning "doesn't curtail to the world of racism."
"What I'm trying to do is to try to get people to understand both sides, but to bring the sides together so we can better understand that," Jones said.
The organization Brothers Before Others hands out "Thin Blue Line" flags at Montgomery County Police's Germantown station. @WTOP pic.twitter.com/AWDrvPqvRK

— Mike Murillo (@MikeMurilloWTOP) November 8, 2019
Earlier on Friday, protesters gathered outside of Montgomery County Police Department's Germantown District Station, handing out Thin Blue Live Flags. County Executive Marc Elrich had prohibited the station from displaying a Thin Blue Line flag because it had been appropriated by the Blue Lives Matter to undermine the Black Lives Matter movement.
Elrich's decision struck a nerve with Gov. Larry Hogan, who took to social media on Sunday to demand Elrich to reverse his decision (Elrich instead doubled-down on Monday).
Hogan said on Thursday at the Universities at Shady Grove that the controversy has been created because of "far left nonsense."
Compared to Elrich and Hogan, the new police chief has stayed neutral about the controversy.