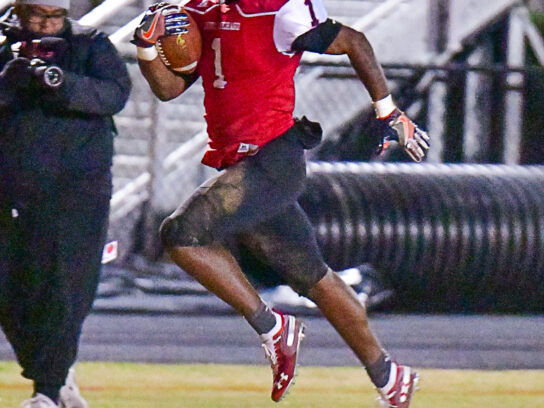 Gaithersburg, MD: Friday, November 8, 2019
It's freezing cold.  The Cougar Dome is sparsely populated for this first round of the 2019 MPSSAA football playoffs.  Quince Orchard is ahead by 36 points at the end of the first quarter over their crosstown opponent the Gaithersburg Trojans.
The play clock still ticks according to the normal rules of play.  A dispute over instituting a "running" clock [mercy rule] after a 35 point advantage in the first half kept the play normal.  At this point of the game it was not normal.  Quince Orchard had 42 points on the board to 6 for Gaithersburg.  Quince Orchard ran just about a dozen offensive plays to this point of the first quarter to garner such a lead.
By halftime Quince Orchard leads 62 to 6.
Hand over kudos to the Gaithersburg Trojans, they showed up, they played, they never gave up, their band played on all night.   It's a small display of personal and team measured success.
The next half belonged to the second teams for both squads.  Mercifully, the clock ran down on both squads as the Trojans found the end zone for their final 6 points on the season.
Quince Orchard 70 Gaithersburg 12, temperature under these Fall Friday Night lights was 30 degrees.
For the Gaithersburg squad they will turn in their uniforms next week, their season over.  Quince Orchards gets another shot at a Friday Night under the Lights.
Next playoff opponent up for undefeated Quince Orchard is Walter Johnson.
Oh, and MPSSAA hopes for a better pay day game day crowd and seasonal temperatures.
Photos to follow
All images copyrighted 2019 © Phil Fabrizio | PhotoLoaf®  for MCM