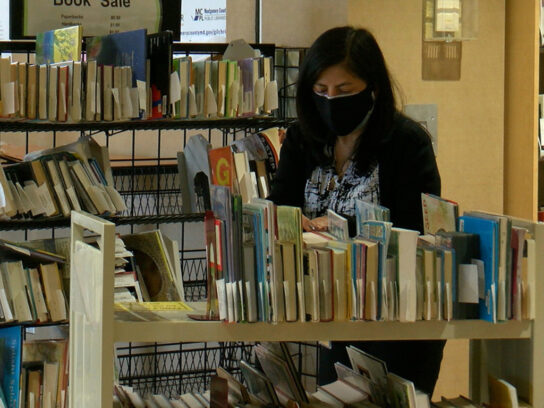 UPDATED – Dec. 30 at 7 p.m.
In an email to MyMCM, Montgomery County Public Libraries Director Anita Vassallo explained that reopening the libraries on Sunday is being delayed "due to the rise in COVID cases and to minimize the transmission of the virus."
Therefore, she wrote, the county "decided to slowly rollout extending our hours.  Starting on Monday, Jan. 3, libraries will stay open two hours longer on each weekday. MCPL will monitor the current surge of COVID cases over the next few weeks to determine if any additional adjustments need to be made."
__________________________________________
Montgomery County Public Libraries will remain closed on Sundays "due to the increased spread of COVID-19 and the Omicron variant."
A press release from the county said that rather than reopen on Sundays as of Jan. 2 as previously announced, the libraries will extend their weekday hours as of Jan. 3 at all libraries except Maggie Nightingale in Poolesville, which is closed for a refresh, and Noyes Library for Young Children in Kensington.
Library hours as of Jan. 3 will be 10 a.m. until 8 p.m. on Mondays, Tuesdays, Wednesdays and Thursdays. The hours will be 10 a.m. until 6 p.m. on Fridays and Saturdays.
"MCPL is pleased to be able to add another eight hours of library service to the community at each branch effective Jan. 3, 2022," said MCPL Director Anita Vassallo in the news release. "We intend to add Sunday as an additional day of service as soon as this is feasible."
After learning of the news, several residents took to social media to question what they called the "Sunday spread of Covid."
Is this the reason @MoCoDHHS @MontgomeryCoMD @MontCoExec do you have some study about Sunday covid spread since you pride yourselves on following the science? https://t.co/bxh3DeQp0s

— Dr. Jennifer Reesman (@jenreesman) December 30, 2021