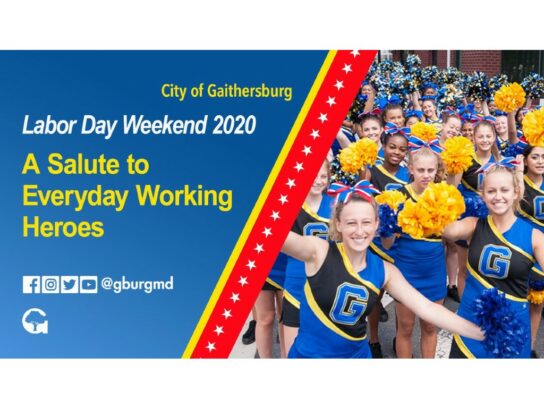 The City of Gaithersburg has moved its Labor Day celebration online, due to the ongoing coronavirus pandemic.
The virtual celebrations will include a retrospective video celebrating the history of the parade and "Salute to Everyday Working Heroes" messages throughout the weekend. These messages and the video will be available on the Gaithersburg Special Events Facebook page and the Youtube channel on September 7.
Youth participants in the City's FunZone summer camps have recorded videos thanking those who work during the pandemic, which will be posted throughout the Labor Day weekend.
According to the press release, this is the second time in 82 years that the Labor Day Parade has been canceled in Gaithersburg, the first time was during World War II. The parade was started in 1928 by the Gaithersburg Fire Department as a fundraiser for the rescue squad. Today the parade is run by the city with support from the Gaithersburg-Washington Fire Department.
Due to the ongoing public health crisis we are sad to announce the Labor Day Parade is canceled. In its place we are excited to reveal the Virtual Salute to Everyday Working Heroes event.
Read more here: https://t.co/RIM82FsuMY pic.twitter.com/uhwoJ7WkQ9

— City of Gaithersburg (@GburgMD) August 10, 2020