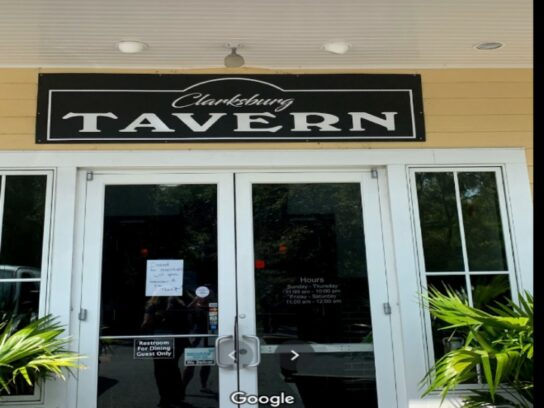 Clarksburg Tavern, which was the scene of a recent "USA Themed Party" sponsored by Robin Ficker, was issued four citations on Jan. 22 for violating the County Executive's order that deals with coronavirus.
The violations concern a Jan. 5 party, for which the county received "multiple complaints," according to Mary Anderson, public information officer with the Montgomery County Health and Human Services.
Clarksburg Tavern was cited for allowing eating inside a restaurant and not enforcing rules concerning social distancing and the wearing of facial coverings. The Tavern on Frederick Road will be reinspected within three business days, according to Anderson.
If these issues are ongoing during the next inspection by county or state officials, the Tavern  could be closed down. "If the Tavern is unwilling or unable to make all of the modifications listed in the Health Order, Clarksburg Tavern may be deemed an unsafe facility and closed," according to an email from Anderson to MyMCM.
"As the County continues to see increases in case numbers and deaths, it is incumbent on every business and resident to do everything in their power to stop the spread. We understand that businesses and residents are experiencing COVID fatigue but willfully ignoring restrictions that are based on science and data will not be tolerated," it stated in the email.
The person who answered the phone at the Tavern Jan. 25 said the owners would not be at the restaurant and bar until Thursday, and she did not give any information on how they could be reached before then.
Photos of the party that were posted on Twitter showed maskless patrons eating and drinking indoors. When contacted several days ago by MyMCM, Ficker explained that he wanted to show support for Clarksburg Tavern, which he said has been hassled since suing County Executive Marc Elrich in an attempt to end the county's ban on indoor dining. He said the restaurant "had started getting a lot of phony orders" and nasty calls.
"We invited them into the restaurant for my 10-minute speech," he said. "Some of the people may not have had masks on, because they were sipping their drinks. Some of them may have brought their drinks or food with them," but no food or drinks were served while people were inside, Ficker said.
The event was to help the restaurant, he noted, calling the negative reactions "much to do about nothing."
Related Post