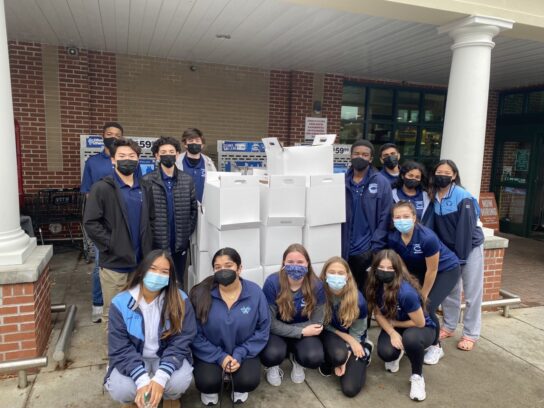 The Clarksburg High School Student Ambassadors Club raised a new record of over $4,500, or 75 full meals, this year for their annual Thanksgiving Meal donation drive.
According to Teak Bassett, the faculty sponsor of the Clarksburg Student Ambassadors, Clarksburg High School opened an online account where the community could donate to the cause. Students then promoted the donation drive through social media and word of mouth.
"In years past we fundraised for 60 Thanksgiving dinners. But, this year we saw a rise in the number of families that needed help, so we raised enough for 75 dinners. It was a much more successful year because we were able to help more families in need," Bassett said in a statement to MCM.
The dinners included turkey, stuffing, green bean casserole, mashed potatoes, gravy, and cranberry relish. According to Bassett, counselors from Clarksburg High School and Rocky Hill Middle School identified families in need and contacted them to schedule times where they could come to the school and pick up the dinners. Fifteen of the boxes were also delivered directly to families who could not get to the school.
"The students of the Ambassadors Club love this project," Bassett said. "It touched their heart knowing they are able to help families in our school directly. The students gain a sense of pride that through their efforts they are able [to] help people have a better holiday…It is great the service project that Ambassadors will continue to do in the future."