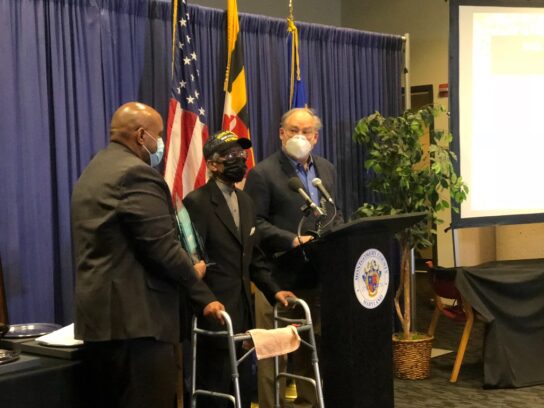 Community leaders in Montgomery County were honored during an awards ceremony Friday at the Executive Office Building in Rockville. 
The Inez Zeigler McAbee and William Harvey Zeigler Humanitarian Award and Roscoe R. Nix Distinguished Community Leadership Awards are county awards presented by the County Executive. 
Activist and centenarian Harvey Zeigler was awarded the Zeigler Humanitarian Award, renamed this year in his honor. According to the county, Zeigler worked to fight job discrimination and promote hiring African Americans in government agencies like Montgomery County Public Schools (MCPS) and the County Fire Department.
During the ceremony, 101-year-old Zeigler thanked those who have supported him.
Three people were awarded the Roscoe R. Nix Distinguished Community Leadership Awards.
One recipient, Blanca Kling, passed away in January after battling COVID-19. Kling was the Hispanic Liaison for the Montgomery County Police Department and a victims' rights advocate. According to police, she strengthened communication between police and the Hispanic community. 
Jason Kling accepted the award on his mother's behalf. He said her legacy lives on when the community works together to realize her vision for a better Montgomery County and world. 
Byron Johns, Education Chair for the county's NAACP branch, also received the Leadership Award. He led efforts to fund Educational Equity Hubs during the pandemic. 
"Let us pledge to be good stewards of the many blessings we have had passed on to us and that we leave this place a little better for the next," Johns said. 
Diego Uriburu received the award as well. He is co-founder of Identity, an organization that aims to create opportunities for Latino and underserved youth. He and Johns co-founded the Black and Brown Coalition for Educational Excellence.
"I accept this award on behalf of my colleagues at Identity, staff, and board. But most importantly, on behalf of the thousands of Latino young people and families that I have the privilege to serve through Identity," Uriburu said.