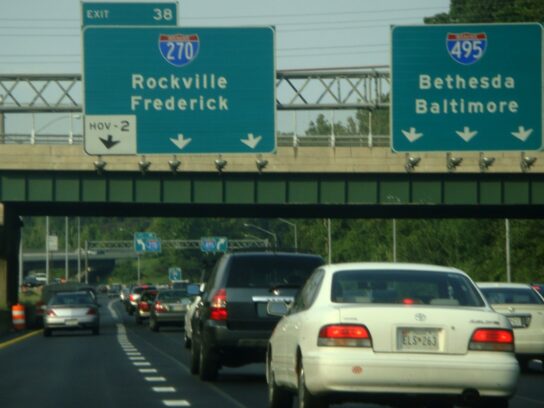 State transportation officials chose two Australian companies to lead work designed to ease congestion along the Beltway and I-270 by adding toll lanes as its partner for predevelopment work.
Accelerate Maryland Partners, which includes Transurban and investment bank Macquarie, will be responsible for overseeing predevelopment work if the Maryland Transportation Authority and the Maryland Board of Public Works vote to approve. That vote is expected to be cast in the spring.
In January, the Maryland Department of Transportation chose as its preferred alternative to include two high-occupancy toll lanes across the American Legion Bridge through to I-270 north and I-370. Plans also include a bicycle and pedestrian connection across the bridge, connecting to the C&O Canal.
Accelerate Maryland Partners was chosen for design work and will have the first right of refusal to do the actual work down the road.
Members of the county council, the Maryland-National Capital Park and Planning Commission and Citizens Against Beltway Expansion all previously have come out against the state's plans. Citizens Against Beltway Expansion said the state must conduct an environmental review of its preferred alternative before doing any design work.
That group is holding a virtual rally Feb. 24 entitled, "Stop MDOT From Breaking Promises."
Maryland Department of Transportation and the State Highway Administration are working together with the Australian companies in what is called a P3 public-private partnership.
"This is another step forward in addressing one of the most significant traffic bottlenecks in the nation. I want to thank all of the teams that pursued this Phase 1 partnership with Maryland and the teams of experts that spent almost 200 total hours reviewing and deliberating over the amazing proposals," said MDOT Secretary Greg Slater.
According to the proposal, Accelerate Maryland Partners LLC includes Transurban (USA) Operations Inc. and Macquarie Infrastructure Developments LLC as lead project developer/equity and lead contractor. Dewberry Engineers Inc. of Virginia and Stantec Consulting Services, Inc. , which is headquartered in Alberta, Canada, will be the designers.
The proposal also includes commitments for transit improvements in Montgomery County, a community grant program, Vision Zero investments, a no interest loan program for local fleet conversions and water quality enhancements, according to MDOT.
Citizens Against Beltway Expansion called the selection of Transurban "to no one's surprise." That company has created high occupancy lanes and other road work along the Beltway, I-95 and I-395 in Northern Virginia.
The contract calls for Transurban to complete a Final Environmental Impact Statement.
The group questioned why Transurban will be allowed to earn a higher rate of return on its equity investment since it has is taking risks, according to the contract, when with a true public-private partnership, "the developer is supposed to take on 100 percent of the construction risk anyway."
We get to finally fix the American Legion Bridge, make transit improvements, create thousands of jobs, and—a personal favorite—create a pedestrian connection across the bridge to the C&O Canal. https://t.co/tdCrk9zp24

— Michael Ricci (@riccimike) February 18, 2021
Great comments from Secretary Slater highlighting new developments for this important project:

1.) $300 million for transit
2.) Free travel for HOV and transit
3.) New bike and pedestrian improvementshttps://t.co/G8EYk8nJCf https://t.co/THCBPWUkUC

— NVTAlliance (@NVAlliance) February 18, 2021
Related Post