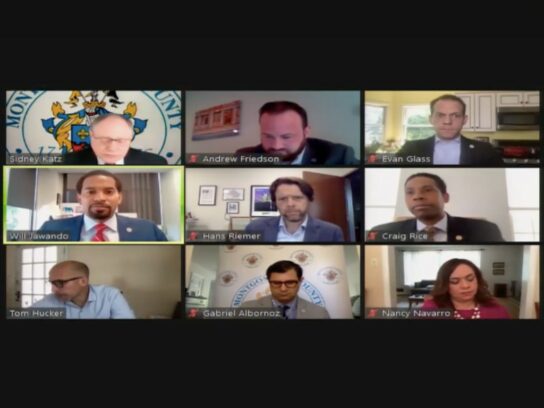 El martes, el Concejo del Condado de Montgomery presentará el Proyecto de Ley 27-20, Política y Reglamento del Uso de la Fuerza Policial, que requeriría que el jefe de policía del Condado de Montgomery adopte una "Política de Uso de la Fuerza" destinada a proteger a todos los miembros de la comunidad del uso excesivo de la fuerza por parte de la policía. Los miembros del Concejo Will Jawando, Craig Rice, Nancy Navarro y Gabe Albornoz son los patrocinadores principales del Proyecto de Ley, según el comunicado del Concejo.
Este proyecto de ley se presentará, junto con otros, en una reunión virtual el martes 16 de junio a las 9:30 a.m.
El 8 de junio, los concejales Jawando, Rice, Navarro y Albornoz emitieron una declaración sobre el uso de la fuerza por parte de la policía, que se centró en la necesidad de medidas legislativas.
Este proyecto de ley requeriría que el jefe de policía emita instrucciones sobre el uso de la fuerza policial que cumpla con ciertos estándares mínimos establecidos por el Concejo. Estas normas incluyen prohibir a la policía el uso de fuerza letal, restricciones en el cuello o restricciones carótidas, excepto cuando sea necesario para protegerse de la amenaza inminente de muerte o lesiones graves. También prohibiría a la policía golpear a una persona esposada o restringida, y requeriría que si un oficial de policía ve a otro oficial violando esta política, debe intervenir. El resumen completo de los estándares y definiciones se puede encontrar aquí.
Proud to join my colleagues @willjawando, @nancy_navarro and @RicePolitics in introducing legislation in the near future to strengthen community trust with law enforcement. Full statement is below. ⬇️ pic.twitter.com/vJIMw4MDPS

— Councilmember Gabe Albornoz (@albornoz_gabe) June 8, 2020
Christine Wellons, abogada legislativa y fuente de información para este proyecto de ley, analiza en un memorando el éxito que limita el uso de la fuerza policial en otros lugares. A nivel estatal, en California, y a nivel local en Seattle y San Francisco, los departamentos de policía han tenido éxito en la implementación de reformas que limitan el uso de la fuerza letal y prohíben o limitan las restricciones que aplican presión deliberadamente en el cuello, lo que puede resultar que un sujeto quede inconsciente.