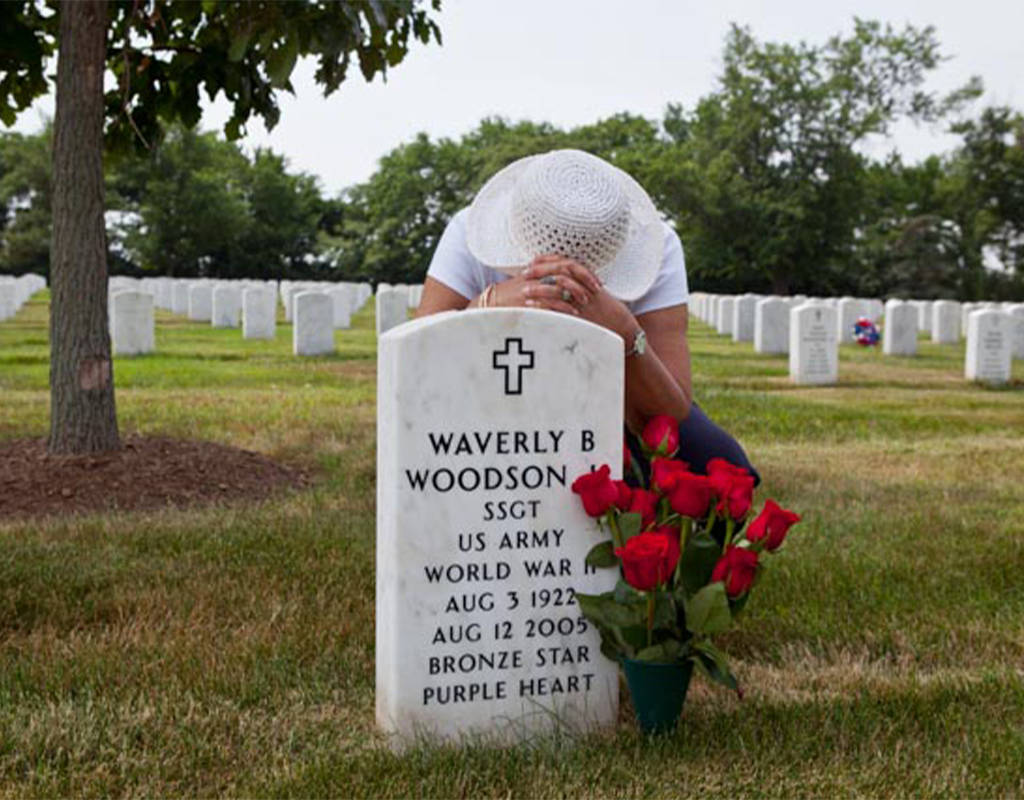 Congress Working to Award Medal of Honor to Clarksburg WWII Veteran Posthumously
"To correct an historical injustice," U.S. Senator Chris Van Hollen said he will introduce bipartisan and bicameral legislation to award Corporal Waverly Woodson the Medal of Honor posthumously for his actions during D-Day in World War II.
Woodson, who died in 2005, received a Bronze Star and a Purple Heart and was nominated for the Medal of Honor, the highest military decoration, for his efforts that day. "He was denied that Medal of Honor, because of the color of his skin," Van Hollen said during a Sept. 8 virtual press conference.
On June 6, 1944, Woodson was an Army medic assigned to the 320th Barrage Balloon Battalion. He was about to land on Omaha Beach when his landing craft tank hit a mine. Despite being severely wounded in the groin and back from shrapnel, he made it to the beach and began assisting his fellow soldiers.
According to historian Linda Hervieux, Woodson "worked through his pain for 30 hours before he collapsed from his injuries."
During those 30 hours, he "saved the lives of dozens, if not hundreds" of men, said U.S. Rep. Anthony Brown. Woodson removed bullets, performed an amputation, stopped bleeding, repaired broken bones and rescued four men from drowning while on the beach. He treated at least 200 soldiers.
Woodson's widow, Joann Woodson, 91, of Clarksburg, urged Congress to allow her family to have a legacy. "We have to keep history alive," she said.
U.S. Rep. David Trone said it was important during this time of "heightened sensitivity" to honor this veteran. "Things have changed. We are in a different place in this country."
While the Army's newspaper, Stars and Stripes, wrote about Woodson's deeds, and there is a copy of a radio interview he did soon after the war about that day, the Army's official position is that Woodson cannot receive the Medal of Honor because it doesn't have all the proper paperwork.
According to Van Hollen, a fire in 1973 destroyed many Army records from World War II, including those of Woodson. That is why Van Hollen, as well as other senators and congress members from both parties, have agreed to introduce legislation to get Woodson this award. The politicians also will send a letter Tuesday to President Donald Trump, urging him to award Woodson the Army's highest honor.
Thanks to Joann Woodson's "tenacity", Van Hollen said he has been trying since 2015 to get Woodson the posthumous award.
Joann Woodson, who was married to Woodson for 54 years, said her husband worked at the National Naval Center after his discharge. He then went to the National Institutes of Health in Bethesda, where he worked in clinical pathology for 38 years. He was involved mostly with diagnostic testing for open-heart surgeries, she said.
"I do believe with the knowledge he had, he could have gone much further."