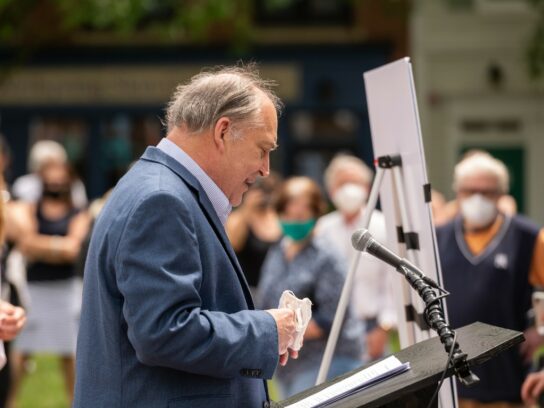 The Montgomery County Council unanimously approved County Executive Marc Elrich's new executive order to enter Phase 1 of reopening.
On Thursday, Elrich held a press conference to announce that the county will begin a slow reopening starting Monday, June 1 at 6 a.m. He was met with booing and name-calling protesters, who believe the process is moving too slowly and continues to hurt businesses and residents. Nonetheless, Elrich signed an executive order outlining Phase 1 late Thursday night, according to Bob Drummer, senior legislative attorney for the council. 
Under the order, the following will soon be allowed: drive-in religious services, curbside-only retail, outdoor seating for restaurants and bars, state-approved emergency childcare for essential and Phase 1 employees, hair salons and barber shops for hair appointments only, exterior car washes, manufacturing, and outdoor day camps and outdoor youth sports that follow state health department guidelines. 
The following will remain closed: pools, senior centers, gyms, movie theaters, malls and nail salons. 
Some councilmembers denounced derogatory remarks and exclamations from residents at Thursday's press conference. "Nazi" and "fascist" were among the names shouted at Elrich.
"I'm appalled by the behavior of the hecklers and the obscenities and offensive language that was on full display during yesterday's press conference. It was disruptive and offensive," Councilmember Nancy Navarro said.  
"The county is following the guidelines set forth by the governor in taking a data-driven approach to reopening while adhering to CDC recommended physical distancing measures in order to minimize health impacts of COVID-19 in our county."
Councilmember Andrew Friedson agreed. 
"There is no place in our community or any community for referring to elected officials as 'nazis' and other similar comments that were made. I know they were deeply disturbing to many of us," he said. 
Residents at the press conference who are critical of the county want reopening to happen faster. 
"We did what they said, and they keep moving the goalpost," said Gaithersburg resident Linda Trofast.
"It's time to reopen, our economy is dying. There's people who are single parents who have no jobs, they don't have food. How many people are dying from things like that?" she said.