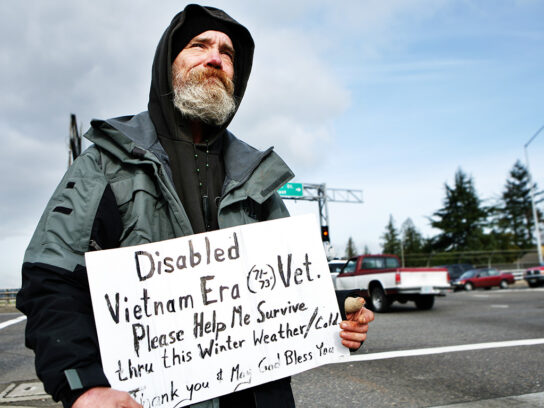 Montgomery County Council will hold a public hearing May 11 on a proposal to require permits for anyone soliciting from vehicles on roads that have speed limits greater than 25 miles per hour.
The proposal, introduced by Councilmember Craig Rice, is designed to prevent pedestrian injuries and deaths. There have been two fatalities, one in Wheaton and one in Germantown, that occurred due to this situation, according to the proposed bill.
A permit would be required for anyone standing in the road, on the median divider or sidewalk, according to the proposed bill. Anyone receiving a permit would be required to adhere to safety guidelines and could only solicit during day light and in certain locations.
John Mendez, executive director of Bethesda Cares, which strives to end homelessness in Montgomery County, said requiring permits is done in other jurisdictions throughout the country as a way to minimize pedestrian accidents as well as the trauma that results when a driver hits someone panhandling in the roadway.
"We typically discourage the giving of money" to panhandlers as "there are services here to help. We want individuals here to take advantage" of programs offered throughout the county, Mendez said.
In the decade he has been working in the county, he has noticed that most panhandlers are trying to get money for their substance abuse habits. Also, he said, "so many of the people who are panhandling here are not from the county" but rather come to the streets of Montgomery County from outside the area.
@ricepolitics Introduces Legislation Requiring a Permit for Solicitation of Occupants in Vehicles on High-Speed Roadways #visionzero #roadsafety https://t.co/J7480fhGlh pic.twitter.com/j2gv7d1hN4

— Craig Rice (@RicePolitics) April 20, 2021
Susie Sinclair-Smith, chief executive officer of the Montgomery County Coalition for the Homeless, called the proposed bill a safety issue. "This is not coming in any way from a point of discrimination. I know that his intent is one of safety," she said, referring to Rice.
She plans to study the bill to make sure it is not overly onerous and then speak to Rice about any chances she might like to see.
Permits would be available at homeless shelters, cooling and heating centers throughout the county and at the Department of Health and Human Services. There would be no cost for the permit.
This permit could be revoked should the person violate any of the requirements, including obeying traffic lights.
According to the proposed bill, about 40% of pedestrians die when struck by a vehicle going 30 miles per hour. That rate jumps to 80% when the vehicle is traveling at 40 miles per hour.
"I am intent on not seeing another senseless death due to solicitation from our medians or unsafe pedestrian entry into our roadways," Rice said. "We all have seen the precarious situations of someone on a median while cars drive by at high speeds or being out in the roadway as the light changes. This bill does not criminalize roadside solicitation but rather ensures that anyone who wishes to solicit in this manner must obtain a permit and receive safety rules as well as information on County resources that may prevent the need for roadside solicitation."
The permit would have to be renewed annually.