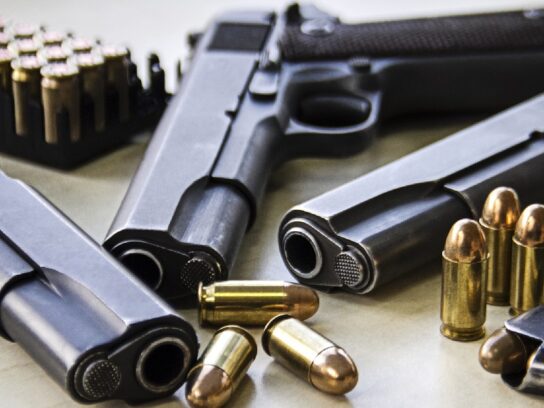 The Montgomery County Council heard various testimonies on Tuesday in favor and opposition of an expedited bill that would prohibit the possession of firearms in or near places of public assembly, with certain exemptions. 
Expedited Bill 21-22, first introduced after the U.S. Supreme Court struck down New York's gun law, would also "remove an exemption that allows individuals with certain handgun permits to possess handguns within 100 yards of a place of public assembly," lead bill sponsor and Council President Gabe Albornoz said. 
"The Supreme Court's recent ruling means that Marylanders could end up facing many of the negative outcomes that Texans currently experience," said Rockville resident Eric B Greynolds, a volunteer with Maryland's Chapter of Moms Demand Action, who was raised in Texas. "The NRA likes to say 'an armed society is a polite society.' I am here to tell you that an armed society is a fearful society."
During the public hearing, the Council's Public Safety Committee heard various points for and against the expedited bill, with multiple testimonies referencing the Supreme Court ruling. 
"The county has no choice here, they must simply abide by the Supreme Court's ruling from New York State Rifle & Pistol Association v. Bruen," said Daniel Carlin-Weber, who spoke on behalf of Maryland Shall Issue. "When we're talking about permit holders, especially in Maryland, we're talking about some of the most vetted people that exist within our society. These are people who've passed substantial and extensive background checks, their criminal history has been looked through, their mental health histories have been locked through." 
The committee heard from concerned voices who emphasized the public safety aspect of the bill.
"Bill 21-22 will protect Montgomery County residents from armed threats to our citizens and places where they work, play and socialize," said Mindy Landau of Brady United Against Gun Violence. "Our children should not have to fear that someone with a gun will invade their safe space for learning and playing." 
A Public Safety Committee work session is to be scheduled at a later date.