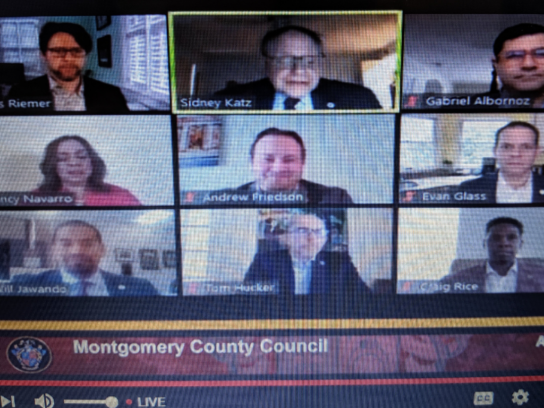 Montgomery County Councilmembers met Tuesday afternoon virtually. The COVID-19 health crisis not surprisingly dominated the meeting.
Some specific topics of discussion included:
An update on council operations. Although the Council Office Building is closed, officials continue to find ways to engage with the public during this health crisis
There's a new way people can submit remote testimonies through the county council website
Beginning on April 16, residents will be able to call in on public hearings
Key initiatives include the Public Health Emergency Grant Program
An update on personal protective equipment for the County's first responders and essential employees
The county continues to work in partnership with state and local hospitals during the COVID-19 pandemic
Vehicle Emissions Inspection Program COVID-19 test site opened in the White Oak area. It is by appointment only.
An update on how multi-immigrant communities are being impacted by the COVID-19 pandemic and the resources that are being made available
Brief comments on how students are transitioning into virtual learning now that school buildings are closed
An update on what's being done to help the homeless population during this health crisis
A broader FY21 Operating Budget overview will be discussed during the April 16 hearing
Another COVID-19 update from Montgomery County Health Officer Dr. Travis Gales, and Office of Emergency Management and Homeland Security Director Earl Stoddard is expected to take place next week.
Watch the entire virtual council session below: 
Education & Culture Committee Chair @RicePolitics says he and his Council colleagues have been working closely with @MCPS to ensure that schools can stand up and sustain quality distance learning for students.

— Montgomery Council (@MoCoCouncilMD) April 7, 2020
The County Council is holding a virtual meeting right now. Topics of discussion include issues related to COVID-19 and Council operations during this health crisis. @mymcmedia @MoCoCouncilMD pic.twitter.com/F3xaAb05Sb

— Jordan Lindsay (@TVJordanLindsay) April 7, 2020
Councilmember Navarro says that the Council has requested racial and ethnic data on Covid-19 infection from the state of Maryland, in order to ensure that the local response is data-driven and that resources are allocated appropriately.

— Montgomery Council (@MoCoCouncilMD) April 7, 2020
Health & Human Services Chair @albornoz_gabe discusses successful efforts to open 2 new homeless shelters, increase options for residents experiencing homelessness. Praises @MoCoDHHS, county's nonprofit partners, philanthropic community for working to help vulnerable residents.

— Montgomery Council (@MoCoCouncilMD) April 7, 2020
Planning, Housing & Economic Development Chair @hansriemer says local biohealth, life sciences industries play an important collaborative role in increasing availability of Covid-19 testing, helping end the public health emergency & maintaining the county's economic well-being.

— Montgomery Council (@MoCoCouncilMD) April 7, 2020
Councilmember @EvanMGlass, who serves as lead for homelessness & vulnerable communities on HHS Committee, praises workers at county nonprofits, medical personnel and others who are providing safe lodging and services for vulnerable residents during the pandemic.

— Montgomery Council (@MoCoCouncilMD) April 7, 2020
Councilmember @willjawando encourages parents of young children to join his daily Virtual Storytime (on Facebook live at 11:30 a.m. @ Councilmemberjawando).

Also discusses bills he is sponsoring to suspend the carryout bag tax & to stabilize rents during public health emergency.

— Montgomery Council (@MoCoCouncilMD) April 7, 2020