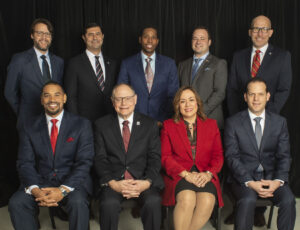 In July 2022, the Montgomery County Council postponed the vote to pass the adoption of the International Holocaust Remembrance Alliance (IHRA) definition of antisemitism, a resolution that would define and reaffirm the county's position on Jewish-targeted hate crimes. Now the Council could see a vote as early as Sept. 13.
The working IHRA definition of antisemitism is:
"Antisemitism is a certain perception of Jews, which may be expressed as hatred toward Jews. Rhetorical and physical manifestations of antisemitism are directed toward Jewish or non-Jewish individuals and/or their property, toward Jewish community institutions and religious facilities."
According to IHRA website, some examples of antisemitism may include critiques on the politics of the state of Israel.
Online Action Network letter campaigns for Jewish and non-Jewish county residents alike have popped up, discouraging the Council from adopting the resolution in the name of free speech. The campaigns claim the IHRA definition is "wrongfully conflating criticism of Israel with the very real threat of rising antisemitism."
A letter campaign self-designated for progressive Jews counts 640 letters sent to the Council, while 2,425 letters from non-Jewish residents have been sent in a similar campaign.
The letter campaigns call on County Councilmembers and the County Executive to remove all mention of the IHRA definition from the resolution and delay the adoption of the IHRA-incorporated resolution until the Council hears input from all stakeholders.
The Council vote on the resolution was spurred after rising antisemitism incidences. At the time the vote was postponed, every council member was a sponsor of the resolution. It is unclear if every council member will remain as a cosponsor on the resolution when it is brought up again.
Related: