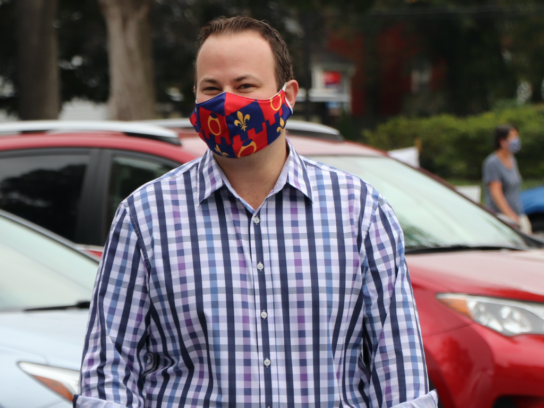 The Montgomery County Chamber of Commerce honored Councilmember Andrew Friedson as Legislator of the Year during the MCCC 2021 Virtual Annual Awards Broadcast on June 10. The award recognizes elected officials who have had a positive impact on the success of businesses in the County.
Friedson is the District 1 Councilmember who represents western and southwestern Montgomery County from the D.C. line to the Frederick County border. He also serves on the Planning, Housing and Economic Development Committee and the Government Operations and Fiscal Policy Committee, according to his about page on the Montgomery County website.
"Councilmember Friedson has been a tremendous champion for all businesses in our community – both before and during the pandemic – and has worked closely with our chamber on many pressing issues impacting the future of our economic growth," said Georgette "Gigi" Godwin, president and CEO of the Montgomery County Chamber of Commerce. "We are proud to recognize him during our 2021 Annual Awards broadcast, and look forward to continuing our work together in the years to come."
Congratulations to Councilmember Andrew Friedson on winning the 2021 Legislator of the Year Award! #MCCCAnnualAwards pic.twitter.com/W3VCUrm0qi

— MCCCMD (@MCCCMD) June 10, 2021
Friedson has worked on legislative and government reform efforts to improve the County's businesses and has been called "the economic and fiscal center of the Montgomery County Council," according to a Montgomery County press release. During the COVID-19 pandemic, Friedson helped create the County's Public Health Emergency Grant Program to help small businesses and nonprofits that were struggling due to revenue loss.
He also worked to create the Telework Assistance Program which helps businesses purchase telework equipment and the Reopen Montgomery Program which helps businesses get reimbursed for the costs of health and safety equipment needed to reopen. Along with the other Councilmembers and the County Executive, Friedson helped create the Childcare Recovery Grant Program to restart the economy and he was the co-lead sponsor of legislation that lowered the County's Annual Trader's License fee to $15 for retailers and restaurants.
"Throughout the pandemic, Councilmember Friedson made his mark as the champion of economic recovery and his actions in support of businesses and all employers have shown that he is innovative, committed to economic growth and prosperity, and dedicated to our community," said Dr. Anne Khademian, executive director of the Universities at Shady Grove. "With policymakers like Councilmember Friedson leading the way, I am optimistic about Montgomery County's economic future."
Friedson was the driving force behind landmark legislation that ensures all Council bills go through an in-depth economic analysis to watch for any potential impacts on businesses and taxpayers. Previously, he was named among Maryland's 2020 Election Day Winners after drafting a successful ballot initiative to reform the County's 30-year-old property tax system, which accumulated more than 62% of the vote and caused an immediate "credit positive" reaction from Moody's on the County's fiscal standing, according to his about page.
"I'm deeply humbled and extremely grateful to the Montgomery County Chamber of Commerce for this recognition and for their strong partnership as we've tried to help County employers through one of the most challenging years in our history," Councilmember Friedson said. "These businesses are our partners and their success is central to our ability to provide a high quality of life to our residents, support the most vulnerable in our community, and achieve our social and environmental goals."
Humbled by this recognition and grateful to @MCCCMD for their partnership to help County businesses and employers through an incredibly difficult year and for recognizing the importance of growing our County's economy. https://t.co/RrZd1TNr33

— Councilmember Andrew Friedson (@Andrew_Friedson) June 9, 2021
Previous winners of the Legislator of the Year Award include Senator Ben Cardin, Montgomery County House Delegation Chair Delegate Marc Korman, State Senator Brian Feldman and Former Montgomery County Councilmember Nancy Floreen.