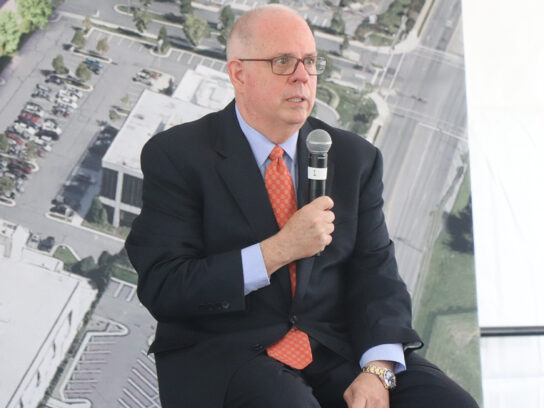 Gov. Larry Hogan said in Gaithersburg on Thursday that he's still hopeful about Congress pushing through a bipartisan infrastructure deal.
On Tuesday, the negotiations between the White House and Senate Republicans ended after the two parties couldn't reach an agreement to improve the nation's infrastructure. President Biden's initial plan proposed a $2.3 trillion package; the Republicans involved in the negotiations put up a counter offer of a $928 billion package.
In April, Hogan hosted a bipartisan group of elected leaders in Annapolis pushing for Congress to pass an infrastructure deal. MyMCM asked Hogan about if he thinks there's still a possibility that Republicans and Democrats can find common ground on the issue.
"I'm still hopeful, I'm not ready to give up quite yet," Hogan said on Thursday.
Hogan said he's been working with the Problem Solver's Caucus in Washington through his role as the chair of the organization No Labels.
"We still [on Wednesday] put out a compromise proposal of about $1.2 trillion that I think is still under consideration," Hogan said. "Right now the best proposal by far is our bipartisan middle ground."
Learn more 👇https://t.co/9P784CB6J3

— Problem Solvers Caucus (@ProbSolveCaucus) June 9, 2021
Some more liberal members of the Democratic Party have come out opposed to continuing drawn out negotiations with Republicans on infrastructure plans that don't address climate change in a big way.
Hogan took to Twitter Friday afternoon, linking to a CNN story about Democrats ready to move on from negotiations with Republicans. "This is everything that's wrong with Washington. President Biden campaigned on bipartisan cooperation. These negotiations can deliver on that promise. The American people want a common sense infrastructure bill, not more reckless spending and tax hikes," he tweeted.
This is everything that's wrong with Washington. President Biden campaigned on bipartisan cooperation. These negotiations can deliver on that promise. The American people want a common sense infrastructure bill, not more reckless spending and tax hikes.https://t.co/rKlbUy76QQ

— Larry Hogan (@LarryHogan) June 11, 2021
Related Post:
Hogan Tours Future Site of Novavax Global HQ in Gaithersburg; 500 Jobs to be Added