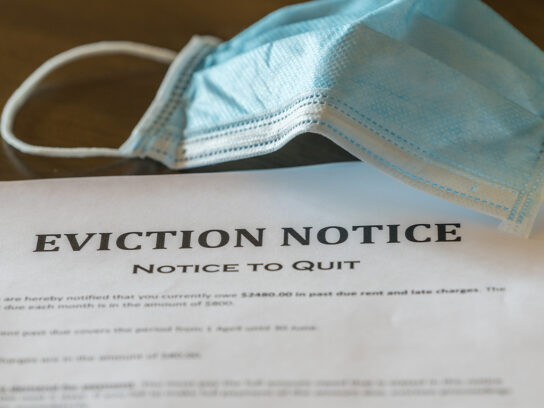 Nathan Feinberg's family of four, including two young daughters, stayed in a hotel in Silver Spring Thursday night compliments of Montgomery County, after being told the basement apartment they rented was unsafe.
The county "paid for an extended stay. They paid for the hotel," Feinberg told MyMCM, adding that the hotel room would be free to them for "one week, it might be longer."
Feinberg's family, including a two and a five-year old, were living in the basement of what turned out to be a home in the Olney-Glenmont area that was not permitted to have an accessory dwelling unit. Recently, Feinberg grew concerned that his landlord was constructing a third apartment that included a kitchen in a closet that abutted his daughters' bedroom.
Earlier this week, he reached out to the county about the construction. A county housing inspector observed the home on March 24 and noticed there was not a second exit from the basement apartment in case of an emergency, and therefore was not safe to inhabit. She told the family the basement windows were to small to use as an egress and gave the family 24 hours to leave, saying they could stay there during the day but not sleep there.
Feinberg wasn't sure what to do, so he contacted six of the nine members of county council and MyMCM. "Everything seemed to change on a dime when I contacted the councilmembers and media," he said.
The county also is involved in making sure Feinberg gets back his security deposit and rent for the remaining days in March that he already paid for as well as a $200 food allowance.
The one-room hotel room includes a kitchenette but it is much smaller than the two bedroom apartment with a full kitchen and a "nice" backyard the family had been living in for the past four months. However, he said, it is much better than being homeless or crowding into a relative's home during the pandemic. "All said and done, it's better than in a homeless shelter," he said, noting that was what the county first suggested.
He now better understands that the "thousands and thousands" of apartments listed on Craigslist and similar websites are not necessarily legal or in accordance with local housing rules, he said.
"The problem is, they have all the regulations, but they don't enforce it," he said of the county's accessibly dwelling units laws. Landlords "look for renters who are afraid to say anything."
Recent Post
Rockville Renter Given 24 Hours to Evacuate Unsafe Apartment but Landlord Stays