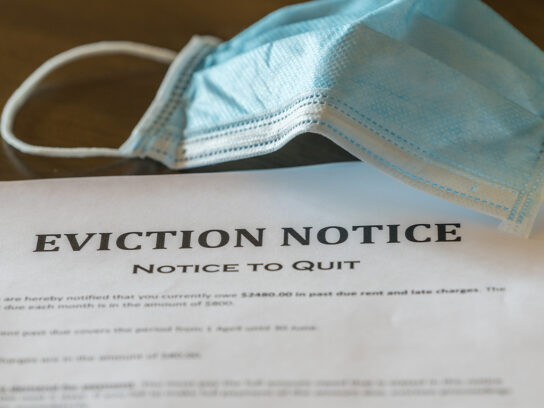 Nathan Feinberg was told Wednesday morning he had 24 hours to move out of the basement apartment he has rented for the past four months, because the windows are too small to allow him to escape in an emergency. However Feinberg said he has a safe way in and out of the home that is located near Georgia Avenue and the Intercounty Connector in Rockville.
The family of four, including two girls ages two and five, were told they could remain in their home during the day but could not sleep there, Feinberg told MyMCM. That ruling came from an inspector with the Montgomery County Department of Housing and Community Affairs, he said, adding that a county worker from Health and Human Services suggested he take his family to a homeless shelter.
"How crazy is that? Somehow that would be safer during a pandemic," Feinberg questioned, adding that as of about 2 p.m. Thursday, he was not sure where his family would be sleeping that night. "We are still trying to figure that out," he said.
Feinberg described the home he rents as an older house, like "thousands and thousands" in the area, and therefore has smaller windows. The inspector told him the basement was not designed to be a separate apartment and was not properly licensed, he said.
"Essentially we are told we can be here during day, but cannot sleep here," he said. "The county determined it wasn't safe."
Scott Peterson, county manager of media relations, called the matter "an unfortunate and tragic situation that these residents are going through for doing the right thing, which was to report this unpermitted construction. Our Office of Landlord-Tenant Affairs has contacted the tenants and is working to locate suitable temporary housing for the family."
Peterson added, "It is critically important that residents report unpermitted construction to the county as it is a grave threat to the health and safety of all inhabitants and tenants."
Feinberg said his problems began when his landlord began construction on the home to enable a third apartment. Feinberg grew nervous when he realized "a gutted out closet in the laundry room" was being converted into a kitchen. That space is "right next to our childrens' bedrooms." He then decided to let the county know.
"We were then informed that our unit was an unlicensed rental and would need to be inspected," he wrote in an email. "The landlords, of course, get to remain in their home and sleep in their bedrooms with the exact same windows deemed unsafe for us. Whereas families up and down the block sleep every night with the same size windows in their bedrooms, it was for us deemed safer to force us out of our home during a pandemic."
The inspector's ruling that the basement was not safe to be used as an apartment "is such an incredible claim to me," he said. "If I rented the whole house, I would be allowed to stay," said Feinberg, who said he has a lease and pays his rent on time.
Feinberg believes "the larger issue" is that homeowners in the county are adding accessory dwelling units to their homes without proper inspections and licensing. Most tenants don't speak up, he said, because they are afraid they will be displaced, or possibly even deported, he said.
"My family should not be made homeless by the Montgomery County government because our landlords failed to follow regulations. If they must alter the windows then require them to alter the windows in a timely manner, or have DHCA do the work and charge them if they need be; but in either case allow our family to remain in our home during this pandemic. We are a working class family, that has done nothing wrong," he wrote.
During the inspection, the county determined that both the basement unit where Feinberg lived as well as the new construction in the garage were unlicensed accessory dwelling units. The county also conducted a safety inspection of the basement and ruled it was unsafe for occupancy, because there was no emergency escape within a sleeping area. The windows were determined to be too small to be used as exits in case of fire.
The windows on the upper part of the house are permitted, because the code changed. However, no permit was obtained from the county.
A Notice of Violation was written, requiring that all beds and bedding be removed within 24 hours, which they were.