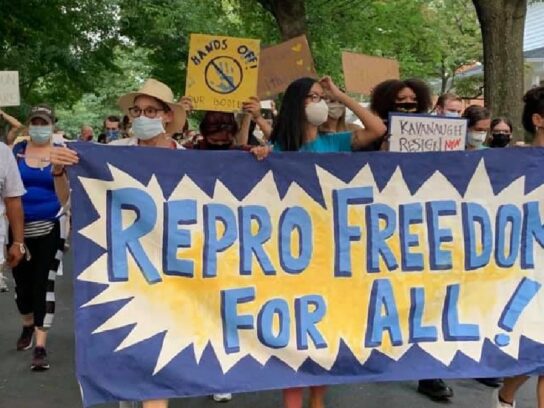 Seven years before Roe v Wade became law, Roz Jonas had to drive for about an hour to obtain an abortion. "A masked man I presumed to be a doctor performed my abortion without anesthesia."
Jonas, a reproductive heath care advocate, spoke during Thursday's press conference in which Executive Marc Elrich announced the availability of $1 million in grants to abortion providers and organizations that support them.
Applications for the money are due by Oct. 10 at 9 a.m. The grants, which will be administered by the Montgomery County Department of Health and Human Services and the Office of Grants Management, are for between $50,000 and $500,000 each for one year.
"We are going to fight back," Councilmember Andrew Friedson said during the news conference. "At a moment of darkness and tragedy, we are going to be a light for the country."
Friedson added, "We don't take backward steps when it comes to rights. We take forward steps. We add rights for people. We don't take rights away."
Restricting access to comprehensive reproductive healthcare does not stop abortions from happening, but instead makes them unsafe, especially for women of color and the LGBTQ+ community. pic.twitter.com/R8PS547LIK

— Councilmember Andrew Friedson (@Andrew_Friedson) September 1, 2022
"Last month, abortion was outlawed in five states. Now, because of court rulings and other factors, there are a total of 12 states with laws heavily restricting women's health care options," Elrich said in his message to residents.
"We will continue our efforts to reach out to businesses in states that restrict the rights of women who may be looking to relocate. We are in the process of researching specific corporations, companies and organizations that are likely considering moves out of these states that are threatening the health and safety of their workforce. We are also currently reviewing marketing strategy proposals on how to best target and find business owners, board of directors and other leaders who will be receptive to our County's booming economic opportunities—as well as our welcoming and inclusive communities," he said in his video message.
"A woman's right to choose, we thought, was a fundamental right that was enshrined in Roe v Wade, and the Supreme Court undid that," Elrich said Thursday.
Maryland Delegate Ariana Kelly called the new funding " further proof that Maryland and Montgomery County continue to be leaders in protecting abortion access."
The money is allocated in the county's Fiscal Year 2023 Abortion, Reproductive Health, and Related Services Access (ARHRSA) Grants Program. "The target population for this grant are women seeking access to abortion, reproductive health, and related services as well as the staff providing these services," according to the county.
I proudly joined my County & State colleagues to announce that @MoCoDHHS and the Office of Grants Management are now seeking applications from qualified Community Based Organizations providing direct services that support the right to access abortion care in the County. pic.twitter.com/K2c2zqfZLL

— Councilmember Andrew Friedson (@Andrew_Friedson) September 1, 2022
Montgomery County Maryland announced that the county will provide $1 million dollars, through a grant program for direct services that support the right to access abortion care. Jordan Lindsay has the story. @Andrew_Friedson pic.twitter.com/f6QMG8EiEe

— Montgomery Council (@MoCoCouncilMD) September 1, 2022
A virtual information session will be held Sept. 9. Full program details, the online application, information session details can be found on the Office of Grants Management website.
Proud to join County Executive @Marc_Elrich today to announce a $1 million grant program to support organizations in expanding abortion access in the county. pic.twitter.com/ZwErXNWoDQ

— Jheanelle Wilkins (@JheanelleW) September 1, 2022