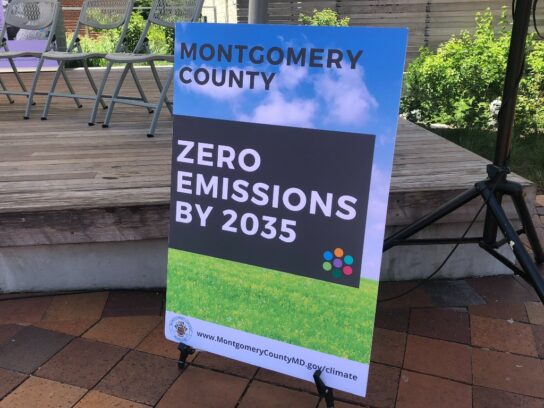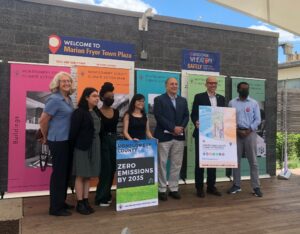 Montgomery County Executive Marc Elrich released a Climate Action Plan with 86 measures to cut greenhouse gas emissions (GHG) by 100% by 2035 compared to 2005 levels and help mitigate climate change risks.
"We've got to treat this kind of like we treated COVID[-19]," Elrich said during a press conference unveiling the plan Wednesday. "With the same level of seriousness and the same level of urgency."
"Now, we saw that in COVID[-19], that when people understand the importance of their actions, did the right thing. And what we're hoping happens with climate change now, is that we can help build an awareness of the importance of people's individual actions, so that people will do the right thing," he said.
Elrich said it is one of the most ambitious climate action plans in the world. The 86 actions are split into seven categories:
Clean energy (5)
Buildings (7)
Transportation (13)
Carbon sequestration (6)
Climate adaptation (20)
Climate governance (16)
Public engagement, partnerships, and education (19)
The county expects to make progress on 75 measures in the fiscal year 2022. Actions include:
Clean Energy:
Promote private solar systems
Advocate for a 100% renewable portfolio standard by 2030
Buildings:
Electrification requirements for existing commercial, public and residential buildings
Electrification incentives for existing buildings
Disincentivize/eliminate natural gas in new construction
Transportation:
Increase public transit
Constrain cars in urban county areas and limit major construction for new roads
Expand electric vehicle charging network
Advocate for vehicle carbon/gas tax or vehicle miles traveled (VMT) tax
Carbon Sequestration:
Retain/increase forests
Retain/increase tree canopy
Restore/improve meadows and wetlands
Climate Adaptation:
Repair/enhance stormwater conveyance systems
Climate adapted housing incentives/subsidies
Green public spaces
Ban stormwater management requirement waivers
Update floodplain maps
Expanded community gardens
Study potential for buildings to flood and remedies
Climate Governance:
Build awareness about climate change among county government staff
Identify and create new county government positions to prepare for and respond to climate change
Have climate ambassadors in each county department
Assess/update county planning, policy and code to consider climate change impacts and prioritize needs of vulnerable residents
Incorporate climate considerations in budgeting processes
Create county government carbon fund for air travel
Public Engagement, Partnerships, and Education:
Conduct "vigorous" public outreach campaign to give public information on how to reduce emissions to adapt to climate change impacts
Create a climate change communication coalition
Make county websites focus more on climate change
Get ongoing input about climate action plan from community
Advocate for ongoing climate change education in school curriculum
Develop sustainability goals and incentives for schools
Encourage at-home climate change action
County Executive Marc Elrich is unveiling a Climate Action Plan to reduce greenhouse gas emissions. @mymcmedia pic.twitter.com/J9gyAWqQlQ

— Maryam Shahzad (@maryam_mcm) June 23, 2021
[hr]
Previous Post: 
Elrich Unveils Climate Plan 'Among the Most Ambitious in the World' to Cut Greenhouse Gas Emissions