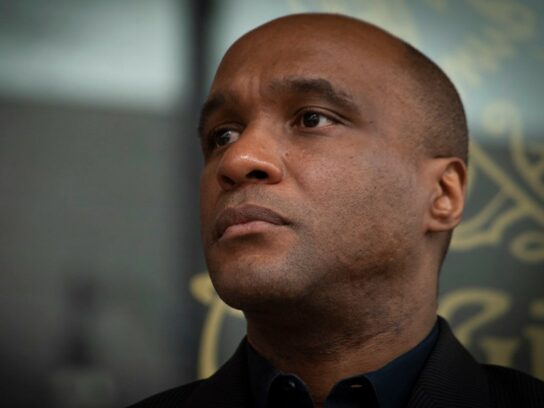 COVID-19 hospitalizations are catching up to case spikes, Montgomery County Health Officer Dr. Travis Gayles said during a media briefing Wednesday.
"As you noticed in last week's press conference we said, 'You know the hospital data is kind of lagging behind the cases.' That's no longer the case," Gayles said. "We are seeing comparable increases in our hospitals, locally as well as across the state."
"And we know if we see any semblance of the numbers from the spring, whether it's related to hospital utilization or COVID[-19] related fatalities, we could potentially run out of space in our hospitals and our ability to be able to provide services to our residents," he continued, "as well as run out of space to take care of those individuals who unfortunately passed away due to COVID[-19]."
During a press conference Monday, Gov. Larry Hogan said COVID-19 hospitalizations in Maryland increased by 80% over the past two weeks. The Maryland Department of Health reported 383 new COVID-19 cases in Montgomery County Wednesday morning. This is the third-largest increase in a 24 hour period since the pandemic began in March and the 13th consecutive day the increase in daily cases is more than 200. The county's cumulative case count is 32,005.
As of Wednesday, the county's COVID-19 hospital bed utilization rate shows a very high risk of transmission, according to the county's data dashboard. 18.5% of hospital beds in Montgomery County are currently occupied by coronavirus patients. Gayles said the county has had to revisit conversations from the spring, like whether there is enough morgue space for those who die from the coronavirus.
"In the spring we had to order refrigerated trucks to be able to provide additional support to our hospitals," he said.
This is serious business, Gayles said.
"If I'm sounding bleak or sounding concerned, it's because we are."
He went on to say, "And we certainly continue to be concerned, as the county executive mentioned, given the record number of folks that we are seeing traveling during this holiday season, in spite of the guidance that we put forward from the state, the federal and the local level discouraging travel as much as possible."
The county follows CDC guidance and recommends that residents do not travel for the holiday and celebrate only with household members. The state health department also recommends this.
During his Monday presser, Hogan said he is deploying Maryland State Police (MSP) troopers throughout jurisdictions as "High Visibility Compliance Units." Beginning Wednesday, the troopers will work with local authorities to investigate COVID-19 violations and work on educating the community about how to prevent super-spreader events.
Montgomery County Emergency Management Director Dr. Earl Stoddard said Wednesday that MSP and Montgomery County Police will likely be doing enforcement in Silver Spring, Bethesda and maybe Gaithersburg Wednesday night. Stoddard said these are areas with "a high density of restaurants and other congregating locations where members of the public are likely to be the night before Thanksgiving."
He reiterated that "enforcement" usually means talking with and educating businesses about safety measures. Only an egregious violation will warrant a first-time citation, otherwise usually they are issued to repeat violators.
In Montgomery County, gathering size is limited to 10 people and masks are required anytime residents are likely to come within six feet of someone else. For example, if a resident is walking outside and is likely to come into contact with someone at any point, they should wear a face covering, Stoddard said.