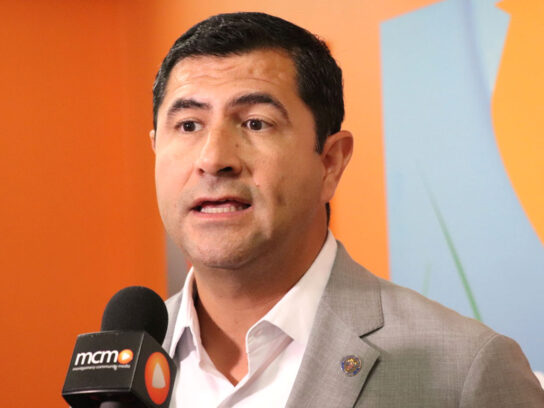 Montgomery County Councilmembers unanimously elected Gabe Albornoz as president and Evan Glass as vice president Tuesday morning.
In accepting the nomination for a one-year term, Albornoz, who was council vice president, announced that one of his major goals would be to end childhood hunger in the next three years. He also said he would strive to reduce crime, boost the economy for local businesses and improve the mental health of residents, especially those "overwhelmed and exhausted" emergency workers and teachers.
"The moral compass of this council and previous councils has always pointed toward just social policies and the relentless pursuit of the common good," he said.
Albornoz takes the gavel from Councilmember Tom Hucker, who thanked his fellow councilmembers, staff and family, adding, "It's been a very intense period. I think I've aged five years this year."
He showed a reflection video, highlighting events during 2021, that included praise for the council's efforts during the pandemic and its emphasis on housing and equity.
Each councilmember took time to thank Hucker for his work as president, including Albornoz' praise for Hucker's efforts to get a state mass vaccination site in the county.
"None of us succeed by ourselves. We all succeed together," Hucker said.
Albornoz chairs the council's Health and Human Services Committee and sits on its Public Safety Committee. He was elected to the council in 2018 and is an at-large member. He also sits on the board of directors of the Metropolitan Washington Council of Governments.
Prior to serving on council, he was the director of the county's Department of Recreation for 12 years.
"We must work together to take a holistic and sustainable approach to fully recover from the pandemic and address long standing inequities in our community," said Albornoz, who is a lifelong county resident. He graduated from Walt Whitman High School and has a bachelors degree from the University of Maryland and an MBA from the Johns Hopkins University.
Glass is the lead councilmember on its Homelessness and Vulnerable Communities and also is a member of the transportation and environment committee. He also was elected in 2018 and is an at-large member.
Glass is the first LGBTQ+ councilmember and previously worked at CNN as a journalist and served as executive director of Gandhi Brigade Youth Media.