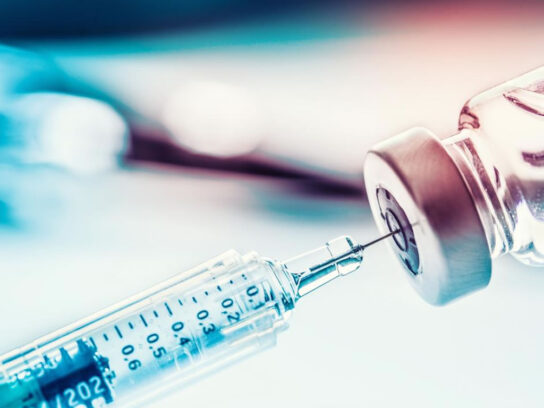 Montgomery County officials expect to receive about half the amount of COVID-19 vaccine doses they requested for this week, Deputy Health Officer Dr. James Bridgers said during a council meeting Tuesday.
County Health and Human Services (DHHS) requested about 12,000 doses this week, however the county was allotted 6,700 as of Tuesday morning, Bridgers said. The federal government distributes doses to states, and states then distribute them to counties. Vaccines are allocated on a weekly basis, and Montgomery County receives allotments roughly every Tuesday.
According to DHHS Director Dr. Raymond Crowel, Health Officer Dr. Travis Gayles had last week asked the state for between 6,000-10,000 doses, and so the county received 8,600. Bridgers said Gayles is following up for clarification about why this week's allotment was cut to 6,700. He noted that this allotment is the highest across all jurisdictions for this week.
Pfizer COVID-19 vaccines go solely to hospitals and long-term care facilities, Bridgers said. Moderna vaccines go to local health departments, to be administered to essential frontline workers like first responders and other healthcare workers. The county does not oversee vaccine administration at long-term care facilities; the state is in partnership with CVS and Walgreens to vaccinate those residents and staff. The county also does not manage vaccinations in hospitals, as decided by the state, Bridgers said.
Crowel said last week's increased allotment of 8,600 doses was in response to how quickly the county distributed the last allotment of 4,200. He clarified that this week's cut has nothing to do with how the health department distributed previous doses. Crowel said it likely has to do with how many doses the state received from the federal government, but he doesn't yet know for sure.
Montgomery County DHHS has received a total of 12,900 COVID-19 vaccines, Bridgers said, which does not include this week's allotment. As of yesterday, 10,317 doses have been administered, or about 80%. Bridgers anticipates about 1,020 vaccinations Tuesday. He said the county has capacity for about 2,500 to 3,500 vaccinations daily.
Bridgers said he expects the county to remain in Phase 1 vaccinations for the next two or three weeks. He reminded the council and viewers that the health department continues to revise plans based on state guidance.
Vaccines do not back up, said Dr. Earl Stoddard, County Emergency Management and Homeland Security Director.
"Whatever vaccine we receive on one Tuesday is out the door by the following Tuesday," Stoddard said. He said there is a "very good possibility" that this week's 6,700 vaccines will be mostly or even totally administered by Friday. That would mean vaccine clinics would likely be closed Monday and Tuesday, until the state distributes additional doses. Stoddard said the county is prepared to ramp up vaccinations and open clinics on weekends if enough doses become available.
"We are not at all at our county limit, nor did we think we would be at our county limit for some time. The limitation right now is the amount of vaccine that's afforded to the county to distribute," he said.
#HappeningNow—The Council is getting an update on #COVID-19 including vaccine allotment from Maryland & the distribution schedule. Tune in @CountyCableMoCo, Facebook or YouTube https://t.co/t8xOrcMQAm . View the staff report https://t.co/uIzUlAqw2W . pic.twitter.com/4ngnmlJ4HS

— Montgomery Council (@MoCoCouncilMD) January 12, 2021